China Yield Curve Steepens. Good Sign for Growth? Not Quite
(Bloomberg) -- As U.S. debates linger about the dangers being flagged by a flattening yield curve, there's been little cheer about the steepening trend in China's equivalent.
Ten-year Chinese government bonds yield about 40 basis points more than three-year notes, up from about 30 basis points a year ago. That's a significantly wider spread than the 18 basis-point premium of 10-year Treasuries over two-year ones, and a similar steepening in a developed market might be interpreted as a bullish sign for the economic outlook. (Under the assumption that interest rates will be higher in future as growth improves.)
Yet China watchers caution that its yield curve doesn't yet contain the sorts of signals found elsewhere. Part of the reason can be seen in the gauge of the curve itself: using a two-year yield reference, as for Treasuries, is challenging because of less readily available data for the history of two-year notes. And at the longer end, lower trading volumes for Chinese debt argue against drawing strong conclusions about expectations for growth and inflation.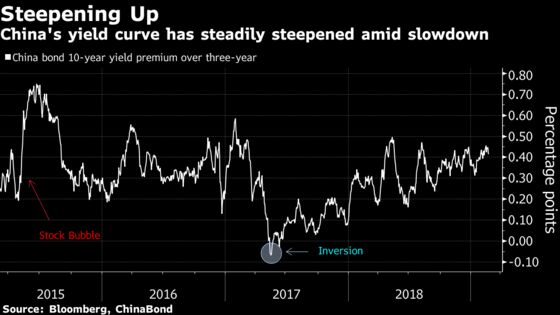 "Market participation mostly reflects big commercial banks that have a buy and hold strategy -- sometimes answering the government's directives," said Hao Hong, chief strategist at Bocom International Holdings Co. in Hong Kong. "It is not necessarily an expression of underlying opinions."
China's curve steepened as the central bank injected liquidity into the banking system, through facilities such as a new targeted lending tool, pulling down shorter-dated rates. Long-term yields have also retreated in recent months, but not by as much -- reflecting some expectation that China will resume its focus on reining in financial leverage, according to Alex Wong at Ample Capital Ltd.
"They may like to resume deleveraging once conditions allow," said Wong, director of asset management at Ample in Hong Kong. "So longer-term rates are able to stay higher but the short-term rates are under pressure."
China's bond market is the world's third largest, but like those in many emerging markets, it lacks the sort of volume in sophisticated hedging tools such as futures and options found in developed nations that allow investors to trade views on growth, inflation or interest rates.
Back in 2017, China's yield curve inverted -- a move that in a U.S. context would be taken by some as anticipating a downturn. As Federal Reserve Vice Chairman Richard Clarida said Monday, inversions in the Treasuries curve "don't happen a lot, and when they do happen that is typically a signal that the economy is either slowing sharply or could even go into a recession."
China's growth has indeed eased some since 2017, though by just tenths of a percentage point. The expansion is still clocking faster than 6 percent, though the latest manufacturing data released Thursday showcased continuing concerns about the slowdown.
As the central bank champions new products and an influx of foreign investment into China's bond market, it may in time improve the signaling of the yield curve.
"The yield curve of China is not that informative at the moment" compared with major markets, said Xia Le, Hong Kong-based chief Asia economist at Banco Bilbao Vizcaya Argentaria SA. "But its importance has been strengthening as China's financial market develops fast."