China's Xi Targets Increased Economic Ties With Portugal
(Bloomberg) -- China wants to continue to take advantage of Portugal's privileged geographical location by deepening its political and business ties with the southern European country, Chinese President Xi Jinping said on Tuesday.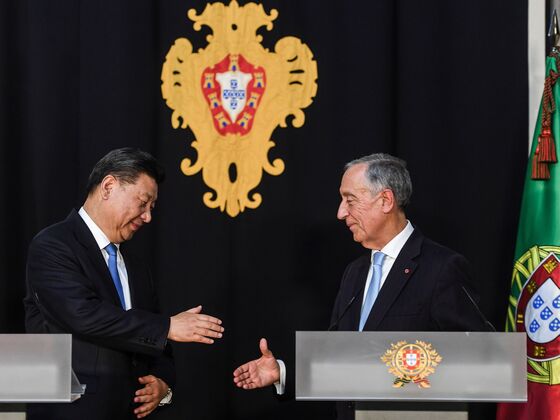 "We should continue to expand and improve our existing projects, increase trade and create other areas of growth," Xi said at a joint press conference with Portuguese President Marcelo Rebelo de Sousa. "We should bolster our cooperation in other markets."
Xi is visiting Portugal on Tuesday and Wednesday, the final stop in a global tour that has included Panama, Spain and the Group of 20 meeting in Argentina -- where he and U.S. President Donald Trump struck a temporary truce in a bid to contain their trade war. Xi did not comment on China's relationship with the U.S.
China became a major investor in Portugal during the country's 2011-2014 international bailout program. In May, China Three Gorges Corp. offered 9.1 billion euros ($10.3 billion) to raise its stake in Portuguese utility EDP-Energias de Portugal SA, which would be this year's biggest Chinese overseas acquisition if accepted, according to data compiled by Bloomberg. Portugal already attracts wealthy Chinese with its so-called golden visa program that allows foreign individuals to buy property valued at 500,000 euros or more in return for residency.
Other Chinese investments in the country include China State Grid's 25 percent stake in energy operator REN-Redes Energeticas Nacionais SA. Fosun Group is the biggest shareholder in lender Banco Comercial Portugues SA with a 27 percent stake, and controls insurer Fidelidade.
"Portugal is an important European country," Xi said in comments broadcast by Portuguese broadcaster RTP3. "Our cooperation has its natural advantages."