Xi's Swipes at Trump Show China Standing Its Ground in Trade War
(Bloomberg) -- If Chinese President Xi Jinping is getting ready to make big concessions to the U.S., his much anticipated speech at a Shanghai trade fair didn't show it.
Xi hit back against President Donald Trump's "America First" policies Monday with some of his most pointed language yet, denouncing "law of the jungle" and "beggar-thy-neighbor" trade practices. At the same time, he didn't outline any new proposals that would suggest he was prepared to meet Trump's demands, such as halting forced technology transfers or rolling back support for state-owned enterprises. Stocks declined across Asia.
"All countries should strive to improve their business environment and solve their own problems," Xi told the inaugural China International Import Expo, which featured more than 3,600 companies from 172 countries, regions and organizations. "They shouldn't always whitewash themselves and blame others, or act like a flashlight that only exposes others, but not themselves."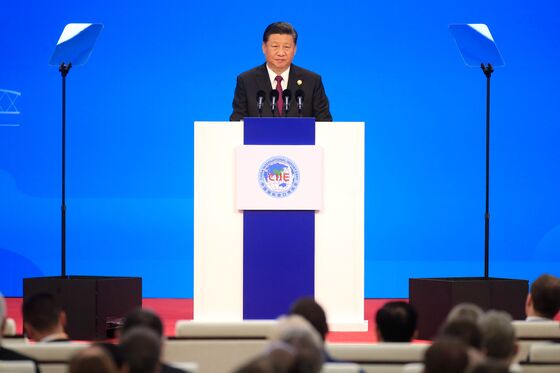 Xi stopped short of naming Trump or the U.S. in the speech, his most high-profile economic address since April. Instead, he stepped up warnings that protectionism would harm global growth while pledging to boost domestic consumption, strengthen intellectual property protection and advance trade talks with Europe, Japan and South Korea.
While Trump has floated the possibility of a deal when he meets Xi in the coming weeks, the two sides remain far apart on resolving key U.S. complaints. Investors watching Xi's speech for evidence that China was serious about accelerating its economic opening and wanted a quick resolution to the trade war were left underwhelmed.
"He repeated a lot of the planned policies we have already heard in the past few months," said Sue Trinh, head of Asia FX Strategy at RBC Capital Markets in Hong Kong. "Markets seemed to like the headline 'to cut import tariffs,' but this plan was already announced in September and can only be milked so many times."
Although Xi pledged to import $30 trillion of good over the next 15 years -- up from $24 trillion in previous estimates -- his policy initiatives were largely in line with previous statements. The government has already cut tariffs this year and said it would do so again.
Enthusiasm wasn't high in the run-up to the event. While 18 heads of state or government are slated to attend, virtually all are from small economies. Of G-20 countries, only Russia is sending a head of state or government.
Although the event was meant to gather foreign companies to woo Chinese consumers, global brands from Adidas to Walmart, Procter & Gamble to Uniqlo, were sending only country heads -- or no senior executives at all. Starbucks Corp. CEO Kevin Johnson, whose company opens a store in China every 15 hours, won't be attending even though he'll be in the same city.
That didn't damp Xi's efforts to cast himself as one of the world's chief defenders of globalization, which he described as a "widening road." "As globalization deepens, the practices of law of the jungle and winner take all are a dead end," Xi said.
Trump on Monday said the trade conflict with China could still go either way.
"We're in a very big dispute with them right now, and we're winning," Trump said on a conference call with supporters the day before the mid-term elections. China wants to make a deal, but if they don't that's fine as well, he said.
Christine Lagarde, managing director of the International Monetary Fund who attended the Shanghai event, called on all parties to deescalate tensions and "fix the global trade system, not destroy it."
China ranks 59th out of the 62 countries evaluated by the Organization for Economic Cooperation and Development in terms of openness to foreign direct investment. Almost half of companies surveyed in June by the European Chamber of Commerce in China said they missed out on business opportunities due to regulatory barriers or market access restrictions, and they expected obstacles to increase during the next five years.
About 180 U.S. companies are sending representatives, including big names such as Alphabet Inc.'s Google, Boeing Co., Caterpillar Inc., Facebook Inc., General Motors Co., Honeywell International Inc., Microsoft Corp., Tesla Inc. and Qualcomm Inc.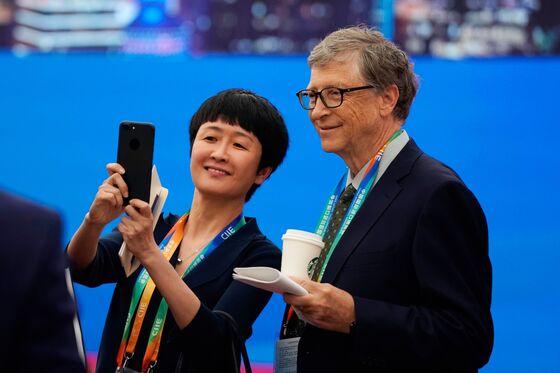 Yet the U.S. government mostly stayed away, even though China said Trump voiced support for the expo in a call with Xi last week. A U.S. Embassy spokesperson said the Trump administration had no plans to send a high-level representative, adding that "China needs to make the necessary reforms to end its unfair trade practices that are harming the world economy."
"It seems like there were good statements and good headlines, but what we want are concrete actions and a concrete timetable of reform," said Carlo Diego D'Andrea, the Shanghai chairman for the European chamber. "We can't let the CEOs of European companies in China to set up their businesses on a foundation of hope that reform will come."