China's War on Urban Waste Has a New Foe: Delivery Packaging
Discarded packaging from China's exploding delivery economy has been targeted by the country's leaders as they seek to rein in a garbage problem in sprawling urban centers.
The country's top economic planning agency said it will "look into measures for controlling the pollution created by express delivery packaging and the problem of excessive packaging" in a report delivered Friday at the annual National People's Congress. It's part of a wider goal of increasing the amount of waste that's sorted and disposed of safely in cities.
The effort from the National Development and Reform Commission underscores the growing challenge China faces from accelerating urban waste streams as recycling efforts lag.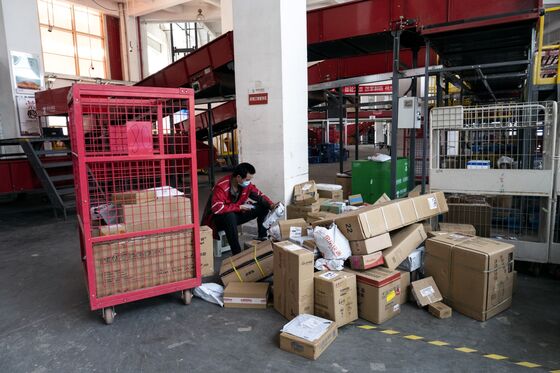 The country generates hundreds of millions tonnes of urban household refuse daily. Since most Chinese families do not sort garbage, 97% of the rubbish is either buried or incinerated. Most of China's 654 landfills are full ahead of schedule and its 286 incineration plants are short of capacity.
The waste problem is exacerbated by the fast-growing e-commerce and food delivery industries. China's e-commerce platforms were estimated to generate more than 2 billion packages in one day last year during the November "Singles Day" sale, according to a XianJiChina.com report.
Deliveries increased after the government locked down residents to slow the spread of Covid-19. And even as the country reopens, the trend has continued: package deliveries were up 27% year on year in April, according to the State Post Bureau.
The NDRC report didn't specify actions it would take against delivery packaging. It also cited plans to improve facilities for urban sewage and garbage treatment, as well as for collection and disposal of hazardous waste. The agency in January said it will ban single-use plastic bags in its major cities by the end of 2020, and all cities and towns by 2022.
China also plans to roll out a mandatory waste sorting system across 46 major cities by the end of this year, modeled on one launched in Shanghai in 2019 with surveillance cameras and volunteers checking for compliance at dumping sites.
"We will address problems at the source, bring about sustained improvement in the environment, and speed up the establishment of a modern environmental governance system," the agency said in Friday's report.