China's Violent Swings Often Mean Danger for Global Equities
(Bloomberg) -- There's a trend in China that rewards equity traders with a relatively calmer session on Fridays. But the yuan is always ready to take the spotlight.
It's been no different this week after one of the wildest rides for onshore equities since early 2016, the last time China faced the challenge of containing the panic in its financial markets. What has changed is that back then, China got some help from a dovish U.S. Federal Reserve pouring money into the global financial system and weakening the dollar. Not so much this time.
The big question is whether China will want to use more firepower to prop up stocks. Direct intervention may backfire, and policy makers may not be too keen on throwing more money into a falling market. This week's news that five state-backed funds sold all their equity holdings did little to help sentiment, especially as no explanation was given. One positive way to spin it: the national team is just going passive.
Beijing's put malfunctions
Equities have turned extremely volatile since top officials launched a sweeping campaign to stop a slide that has made the Shanghai benchmark one of the worst performers in the world this year. The gauge saw intraday swings exceeding 2 percent for eight straight sessions (finally broken on Friday), and traders rushed to hedge against big moves in either direction.
Read more:
China's more targeted buying 
China's having slightly greater success taming its exchange rate: the yuan is set to have its steadiest month in more than a year. It seems eerily calm, especially as record trading volume suggests someone's doing a whole lot of work to ensure the yuan doesn't move. We got a reminder Friday of how jittery things can get, with the yuan weakening past 6.9 per dollar in intraday trading before the central bank gave bears a bit of a wrist slap. History shows betting against a heavy-handed People's Bank of China can be very painful.
Still, evidence that capital outflows are picking up could disrupt the calm. More on that next week.
Read more:
Chart comparing the turbulence 
There was record volume 
The city's equities are facing one more unwanted milestone: the worst monthly losing streak since 1982. That was the year talks between China and the U.K. about Hong Kong's future sparked panic and triggered a sharp depreciation of the Hong Kong dollar. The currency was pegged to the greenback about a year later.
It's been a painful start for what has historically been the kindest quarter for the city's stocks, and it could get even worse. Hong Kong's most valuable company Tencent Holdings Ltd. failed to hold above yet another key support level on Friday, which is likely to accelerate the selling.
Read more:
Tencent breaks HK$265 per share
Turbulence in China's equity market is rarely good news for the rest of the world. Check out what happened after previous bouts of volatility.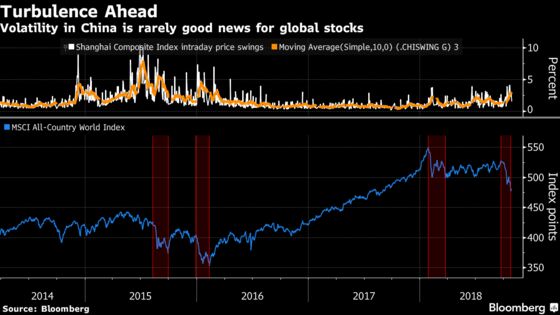 Here's what else caught our eye.
The trade war is making Alibaba produce its own chips.
Traders are puzzling over a flurry of block trades in big Chinese banks.
Private companies' funding pain is by no means over.
Liquor makers are having a tough time.
Another piece of bad regulatory news for Tencent.
Big oil gets interested in an old Chinese pirate haunt.
Hedge funds are expanding their footprint onshore.
Tools protecting against bond defaults are in high demand.
Wealth managers at two U.S. banks are curbing China travel.
Robots replace humans in this hotpot restaurant.