China's Squeezed Private Companies Face More Funding Pain
(Bloomberg) -- The funding squeeze for China's private enterprise is expected to persist, despite recent measures aimed at easing financing difficulties, adding further pressure on the beleaguered stock market.
Non-state companies have borne the burden of the government's two-year deleveraging campaign, as the closing down of funding channels boosted the cost of borrowing and sent defaults to a record high.
Denied loans from mainstream banks because of a lack of state support and collateral, the private sector -- which accounts for the majority of China's gross domestic product -- has been forced to find other ways to obtain capital. These included turning to shadow banking, issuing bonds and putting up shareholdings as collateral for loans. All these avenues have become more inaccessible or costly at the same time as a trade war with the U.S. threatens to shrink profit margins.
"Because of the market slumps, many people think there is no collateral that's good enough to be pledged for lending to private companies -- that is fatal for such firms," said Xia Le, Hong Kong-based chief Asia economist at Banco Bilbao Vizcaya Argentaria SA. "Many companies are already in a liquidity crisis, and that will sustain in the near term. China's economy will fare worse next year as a result."
The People's Bank of China plans to give 10 billion yuan ($1.4 billion) to a state-backed insurer to provide credit support for debt sales by private enterprises, people familiar with the matter said Tuesday. That's part of the plan the central bank announced this week to support such firms, including a 150 billion-yuan increase in financing, after the stock market's steepest sell-off since 2015.
The measures came after President Xi Jinping on Sunday vowed "unwavering" support for non-state companies, which represent more than 60 percent of the economy and 80 percent of employment.
While the benchmark Shanghai Composite Index jumped about 4 percent on Monday in reaction to the stimulus policies, it has since given back much of the gains. The gauge closed little changed on Thursday.
Here is a look at how funding channels have narrowed for private firms:
Outstanding volume of shadow financing, which includes entrusted loans, trust loans and bank acceptances, shrank a seventh straight month in September to the lowest since January 2017. Private companies had been reliant on this funding channel in recent years, as banks refrained from lending to firms without government backing amid a slowing economy.
It's getting more difficult to borrow from the non-banking sector nowadays, as officials have intensified a clamp-down on the shadow banking industry -- by issuing a flurry of directives on how money is borrowed and managed -- since last year to contain financial risks.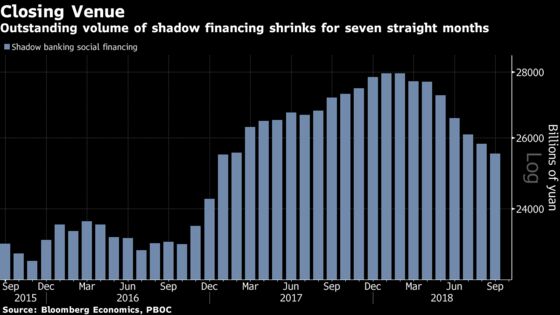 Chinese corporates with ratings of AA or below, which are considered junk scores that state-backed enterprises rarely get, this year are set to obtain the least amount of funds through bond issuance since 2010, according to data compiled by Bloomberg. The figure doesn't include notes issued by local government financing vehicles.
It's harder for them to issue because investors, spooked by record bond defaults, become reluctant to buy. Private firms have defaulted on 62 billion yuan of bonds so far this year, four times that of 2017. They accounted for 94 percent of all local note failures in 2018, according to Bloomberg data.
This week, PBOC Governor Yi Gang called for active use of bonds as a financing tool for non-state enterprises, according to a statement on the central bank's website.
READ MORE: China $6.6 Billion Quarter of Defaults Hits Non-State Firms Hard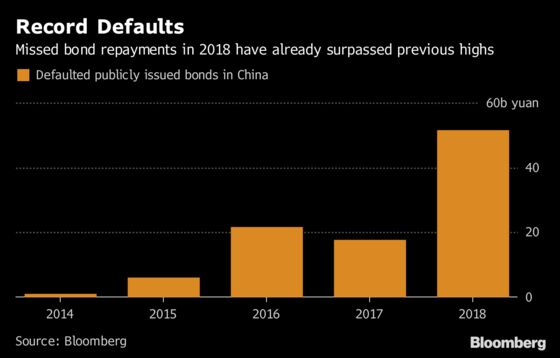 The outstanding loans listed firms get from pledging their shares -- typically done by private companies -- shrank for seven consecutive months to 1.46 trillion yuan in August, according to Moody's Investors Service. Securities brokerages are becoming less willing to lend, because the value of the collateral -- listed firms' shares -- has been dwindling quickly, as the benchmark Shanghai Composite Index has tanked about 30 percent from this year's peak.
Equity sales have also been restricted since February last year when China announced the number of stocks issued in private placements can't be more than 20 percent of a firm's total shares.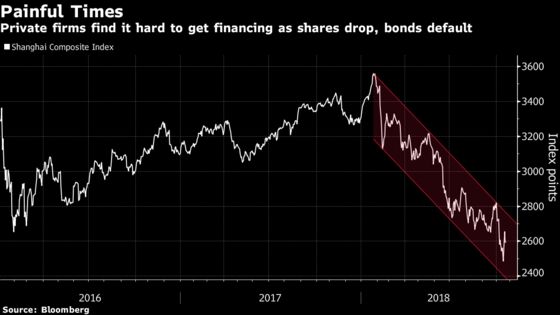 The outstanding amount of loans lenders made to small and micro businesses grew by just 1.9 percent in the second quarter, the slowest pace since official data were available in 2015. The PBOC cut the amount of cash banks need to set aside as reserves four times this year.
"Historically, Chinese banks have been reluctant to lend to institutions without government guarantees or institutions without fixed assets as collateral," said Logan Wright, a Hong Kong-based director at research firm Rhodium Group, who has covered China since 2006. "It's hard to incentivize banks" to lend to non-state companies.