China's Regional Hinterland Suffers as Beijing Reins In Debt
(Bloomberg) -- The economic gap between China's less-developed western region and the wealthier eastern parts of the nation widened in the third quarter as Beijing's crackdown on property and local government debt weighed on growth.
Fixed-asset investment in Guizhou, Qinghai, Shaanxi, Ningxia contracted in the first nine months of this year, contributing to weaker growth in those provinces than the national pace of 9.8% in the same period. Investment in Tibet also fell, but the region hasn't published GDP data yet. 
Expansion in another six provincial-level units in the west was also slower than the national level, with only Chongqing outperforming. Overall, investment in the western region rose 5.5% in the first nine months, below the central, north-east, and eastern regions and also the national total.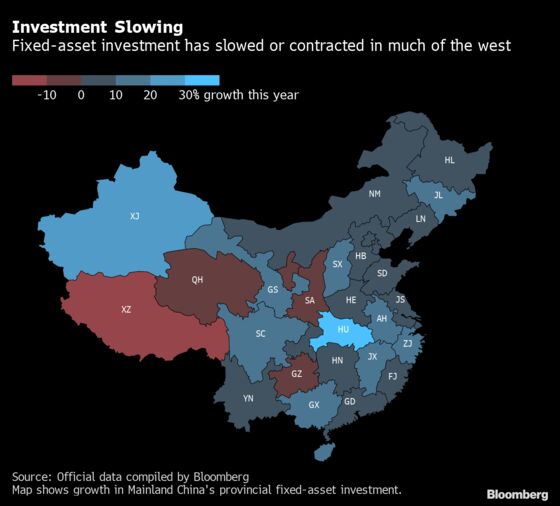 Nationally, growth slowed in the third quarter, partly due to a higher base of comparison from a year ago, but also dragged down by power shortages, repeated Covid outbreaks, and turmoil in the housing sector. Government action to fix imbalances and lower financial risk in the economy is also having an effect on activity, with the tighter rein on the property sector and local government debt likely helping to widen the divide between the regions.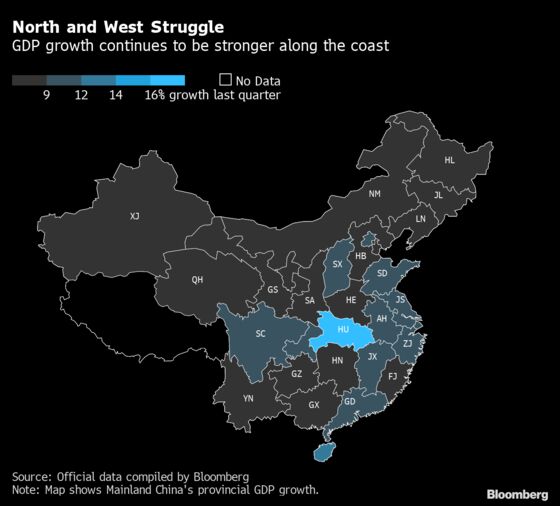 Western Chinese provinces had seen faster economic growth than those in the east until recently, benefiting from big-ticket government investment aimed at boosting the region and transfers of lower-end industries from coastal provinces. But the coronavirus pandemic has slowed that down, with local government borrowing less money to fund infrastructure projects and businesses more cautious about expansion plans. 
The damage to the domestic tourism industry from repeated lockdowns and travel restrictions due to Covid-19 outbreaks have also hurt growth in these regions.  
In an effort to coordinate regional development, the State Council last week released an ambitious blueprint for linking two important cities in the western region: Chengdu and Chongqing. The city cluster development plan is expected to turn the region into an "important economic center" and a "science and technology innovation center" with national influence, according to the plan.