China's Red-Hot Bond Market Shows Bets Rising on Monetary Easing
(Bloomberg) -- All the negative headlines around U.S.-China trade and a slowing domestic economy are supercharging the nation's bond market, as traders up bets on monetary easing.
The yield on China's 10-year sovereign debt dropped to 3.27 percent on Monday, its lowest level since March 2017. The nation's government bonds have been among the world's best performing this year, with the yield declining 63 basis points, while Shanghai stocks and the yuan have slumped.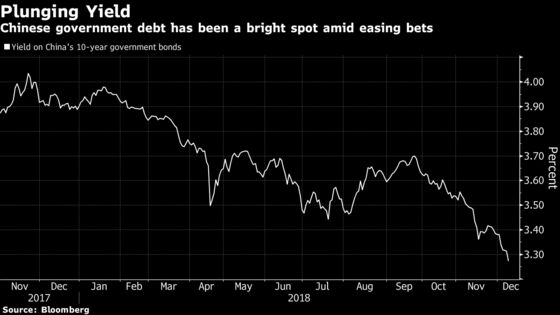 The central bank has cut the reserve requirement ratio for lenders four times in 2018, helping reduce the one-month interest borrowing rate to about 2.8 percent from 4.9 percent at the start of the year. While the rally faces hurdles as year-end demand for cash tightens liquidity, there is scope for gains to continue into 2019. Ming Ming, head of fixed-income research at Citic Securities Co., predicts the 10-year yield may fall to 3 percent next year as the People's Bank of China eases.
The yield dropped 4 basis points on Monday. It's fallen every day bar one in the past two weeks.