China's Proposed Car-Tax Cut Brings Relief to Investors, Dealers
(Bloomberg) -- The prospect of China injecting stimulus into its moribund car market triggered a surge in automakers' shares from Europe to Asia. But overseas investors aren't the only ones cheering the chance of a 50 percent cut to the tax on vehicle purchases.
On the ground in China, car dealers have been hurting as the trade war with the U.S. hit consumer demand and raised prices for imported brands, putting sales on course for their first annual drop in more than two decades. The country's economic planning body is proposing the tax cut to revive the flagging market, people familiar with the matter told Bloomberg News. The odds are good if history is any guide, with sales accelerating after a similar move in October 2015.
Car saleswoman Tracy Liu is optimistic.
"Such a tax cut would surely work," said Liu, who works at a dealership in the eastern Chinese city of Jinan that sells cars made by Volkswagen with its Chinese partner FAW. "The sales impact was almost immediate the last time it was cut."
The reaction in markets has been similarly buoyant, with shares of Chinese carmakers surging Tuesday to join last session's rally in automakers from Volkswagen AG to Ford Motor Co. Car-company stocks have been beaten down this year as the trade fight dragged on China's economy and stock market, deterring shoppers from big-ticket purchases.
Ford, down 28 percent this year before the news of the proposal, gained as much as 6.8 percent in New York Monday, while Guangzhou Automobile Group Co. rallied as much as 9 percent Tuesday in Hong Kong, narrowing this year's losses to 42 percent.
Passenger-vehicle sales in China rose 3.3 percent in September 2015. Sales growth jumped to 13 percent a month later, when the last tax cut took effect, China Association of Automobile Manufacturers data show.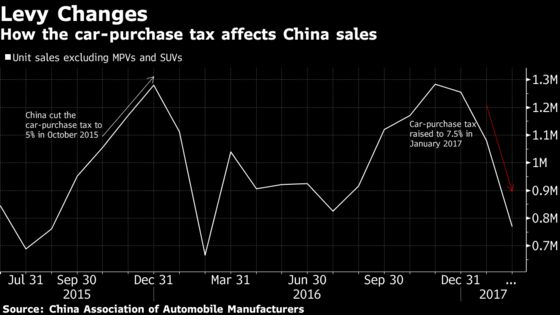 If the proposal from China's National Development and Reform Commission goes ahead, it would cut the levy down to the level that was in place from October 2015 through 2016. China scaled back the reduction last year, lifting the tax to 7.5 percent and again to 10 percent at the start of this year.
"When the tax rebate was about to be phased out last year, there were a lot of consumers advancing their purchases in order not to miss out on it," said Liu, the sales representative.
The suggestion is to reduce the purchase tax on cars with engines no bigger than 1.6 liters to 5 percent from 10 percent, the people said. Cars of that engine size accounted for some 70 percent of the total number of passenger vehicles sold last year, according to the automobile association, affecting hundreds of models across carmakers.
Volkswagen which sold just under 40 percent of its vehicles in China last year, surged as much as 6.9 percent in Frankfurt Monday, and BMW AG and Daimler AG also rose. General Motors Co. rallied as much as 5.1 percent in the U.S.
Among Chinese carmakers, Great Wall Motor Co. jumped as much as 9.5 percent and Geely Automobile Holdings Ltd. gained as much as 7.2 percent in Hong Kong Tuesday.
Carmakers are increasingly relying on China after demand in more mature markets tapered off and an emergent middle class led the nation to become the largest market for automobiles. Still, higher trade tariffs have cut purchasing power and consumers are retreating from big-ticket buys, a pullback exacerbated by the phasing out of the previous tax rebate.
If stimulus is announced in the coming weeks, the 2015 experience suggests expectations for 2019 industry sales could be revised higher by as much as 2 million to 2.5 million units, or as much as 10 percent, Sanford C. Bernstein & Co. analysts including Robin Zhu wrote in a note dated Monday. This would mean "mid-single digit growth" next year compared with current expectations for a "modest decline," they wrote.
Bernstein warned of a possible pullback in demand once the stimulus rolled off and said it had a cautious view on China's auto industry. "We believe the Chinese market is now mature, and likely to offer slower and more cyclical growth going forward," according to the analysts.