China Property Flashes Fresh Warning With Bad-Loan Jump Forecast
(Bloomberg) -- Signs of pressure on China's property market are deepening, with a report saying that soured loans from the industry could put "significant stress" on banks and a state researcher warning of accumulating risks in a sector that underpins the economy.
The value of bad loans from the real estate industry will increase by at least 20 percent this year, China Orient Asset Management Co. said in its latest annual survey. The property market will see an "increasing correction" under heavier restrictions, leading to a rise in the non-performing loan ratio for the sector to about 1.5 percent, according to the survey.
The report added to a chorus of warnings on the dangers mounting in the property market, which could ripple through the banking system and drag down economic growth. Authorities have renewed their drive to cool speculation and have tightened access to credit, increasing "market distortions" and exposing debt risks, Wang Yiming, deputy director of State Council Development Research Center, said at a forum Wednesday.
Negative news has sent Chinese developer shares to an 11-month low, with an index of 22 property companies falling 2.8 percent on Wednesday, bringing the decline this week to 5.7 percent. Bonds of developers such as Country Garden Holdings Co. and China Evergrande Group are trading near record lows.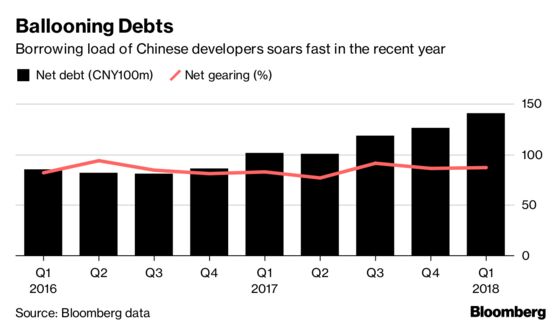 About half of the respondents in China Orient's annual survey, which interviewed 391 people from commercial banks and asset management firms, said a property price decline of 20 percent or more will put banks under significant pressure. Under one-third thought stress will come with a 30 percent value correction or more.
The amount of bad loans has been growing "relatively quickly" since 2013, the report said. While the bad loan ratio in the property industry is still low, the level is edging towards the economy's average of 1.75 percent, according to the report.
Real estate-related borrowings may represent more than 56 percent of all outstanding loans this year, despite fewer new loans flowing into the sector, according to the survey. That's about the same level seen in the first three quarters last year.
"If home prices fall 20 percent to 30 percent, reacting excessively to the relentless polices," or if the market reacts poorly to a property tax, "industry risks will burst out one by one," according to the survey report. "That would break the risk cushion of banks."
Highlighting the vulnerabilities of the nation's smaller lenders, a local ratings firm downgraded Guiyang Rural Commercial Bank Co., citing a surge in bad loans that has nearly wiped out the capital of the rural bank. China Chengxin International Credit Rating Co. said the lender's capital adequacy ratio fell below 1 percent after non-performing loans rose, according to a June 29 statement.
While Chinese policy makers are trying to introduce some much-needed financial discipline into the highly indebted property industry, the worry is that defaults will jump and economic growth will take a hit. Real estate accounts for about 20 percent of China's gross domestic product, when both direct and indirect contributions are considered, according to Bloomberg Economics.
For the most leveraged listed developers, net debt-to-equity ratios are as high as 477 percent, according to data compiled by Bloomberg.