China Is Buying Distressed Private Companies as Markets Sink
(Bloomberg) -- It's never been easy to figure out where China's government ends and the private sector begins, but the dividing line is getting increasingly blurry as the nation's stock market sinks.
At least 47 non-state companies in China have disclosed plans to sell stakes to government-backed investors in 2018, company filings compiled by Bloomberg show. The pace of such deals accelerated in recent months as the country's $3.2 trillion equity rout squeezed company founders who pledged their stakes as collateral for loans. Faced with margin calls and cut off from the banking system, some entrepreneurs have had little choice but to accept state money.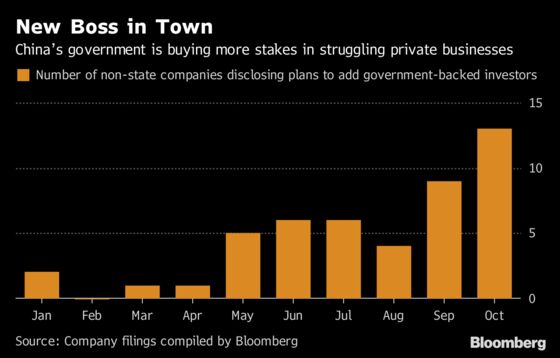 While the capital infusions have reduced the risk of near-term defaults and caused several stocks to rally, they've also fueled concern among some analysts that China's government is taking advantage of this year's market turmoil to encroach on the private sector's turf. Despite recent liquidity challenges, private Chinese businesses have been key drivers of the nation's world-beating economic expansion over the past four decades and are typically far more productive than government-owned peers.
"We're seeing more companies introducing strategic investors with state or local government backgrounds, which is good in the current market conditions because it could offset market risks," said Lv Changshun, a fund manager at Beijing Dajun Zhimeng Investment Management Co. "In the long run, whether or when they will exit their investment raises uncertainties. Government-backed investors usually are not professional enough."
The stake purchases -- spread across industrial, technology, consumer and other sectors -- have so far affected a small fraction of China's listed non-state businesses, but the scale could grow if the country's market turbulence persists. Several local and provincial governments have set aside money to shore up companies squeezed by the pledged-share crisis, according to local authorities and media reports. The Shanghai Composite Index, which dropped 2.2 percent on Monday, was little changed in early Tuesday trading.
Yonker Environmental Protection Co., a maker of pollution-control equipment whose stock has tumbled 55 percent this year, is a typical example of the private-to-state shift. The Changsha-based company said on Oct. 9 that a local government-backed investment firm plans to buy up to a 30 percent stake from Yonker's controlling shareholder, which had pledged more than 99 percent of its holdings for loans.
The funding strategy had become increasingly common in recent years after a government clampdown on China's shadow banking system. Shadow lenders were an important source of liquidity for the private sector, which has long been shunned by state-run banks.
While Chinese leaders from President Xi Jinping on down have pledged to support private companies in recent weeks, some observers are skeptical. The worry is that more companies could shift from private to state hands, making the economy less efficient and restraining long-term growth.
"The private sector has shown time and time again that it's the most dynamic area of the Chinese economy and you certainly want to be encouraging that," Fraser Howie, who has two decades of experience in China's financial markets and co-authored the 2010 book "Red Capitalism," said on Bloomberg Television. "What you've seen very recently in the stock market is companies effectively being nationalized."