China's Machine Makers Are Looking for a Scapegoat
This week, China's Ministry of Commerce opened an anti-dumping investigation into Japanese and Taiwanese exporters of vertical-machine centers – core-equipment manufacturing facilities for autos and other high-tech processes – after complaints by a group of Chinese companies. The probe is expected to close in a year.
In their application to the government, the Chinese firms allege that the number of imports of Japanese and Taiwanese machines rose more than 70 percent last year, along with their market share.  While prices have fluctuated, competition has intensified, the complaint notes.  
Much of this is a case of playing spoilsport. The numbers, at least, show as much.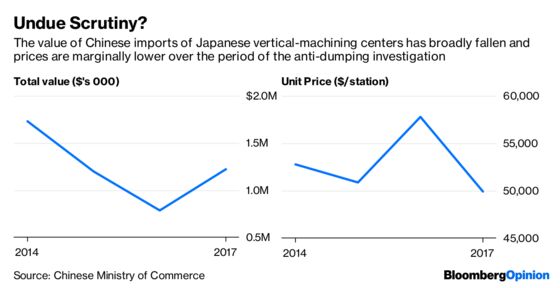 Last year, China imported $1.22 billion of such machinery from Japan, 30 percent less than in 2014. Meanwhile, the price per unit only fell 5 percent over that period.  What's most likely rankled Chinese companies are 2016 and 2017, when the value of imports rose more than 50 percent while the unit price dropped 14 percent. 
Does one big year – from a unusually low base in 2016 – warrant a complaint and an investigation?
Meanwhile, in Taiwan's case, not much has changed: Between 2014 and 2017, total value fell and unit prices rose. From 2016 to last year, value rose 13 percent and prices fell 0.05 percent.  
Here's the reality: machinery orders in China have been slowing, though absolute levels still remain high. Machine-tool production has broadly edged lower and shipments of bearings, considered a proxy for the industry, have dropped. Orders from the mainland for Japan's Yaskawa Electric Corp. have fallen sharply in recent months.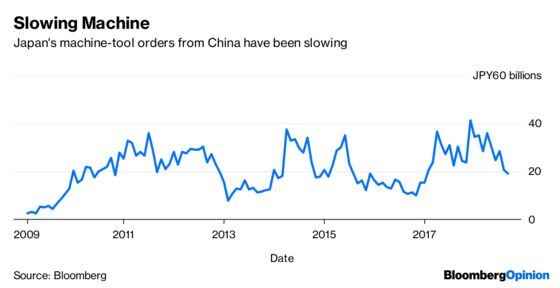 Capital expenditure in the Chinese private sector has also dipped amid the trade war. That usually hits big-ticket items like factory automation and other machinery-related investments: Growth in China's robot demand, as measured by volume, has slowed to 30 percent to 40 percent in the first half of this year, from 70 percent last year.
Other subsets of less-complicated machinery like excavators, bulldozers, tractors and combines have fared a bit better. That's likely because manufacturers are hoping for some form of infrastructure-related fiscal stimulus. For companies like Sany Heavy Industry Co., which has weathered foreign competition, unit sales have risen. Chinese makers' excavator volumes, for instance, are growing much faster than their Japanese peers.
Meanwhile, along with rising material prices, labor costs in China are up almost 10 percent a year, according to Nomura Holdings Inc. analysts. The Japanese have tried to leverage this trend by exporting automation. If anything, a crackdown on their machinery will only hurt Chinese productivity.
It isn't all that bad for Japanese companies: Machine-tool orders in Europe, the U.S. and at home have been rising.  Demand from sectors like autos remains high, as we have written about here. Investors flinched and the beaten-down Japanese machinery stocks dropped even more on Thursday.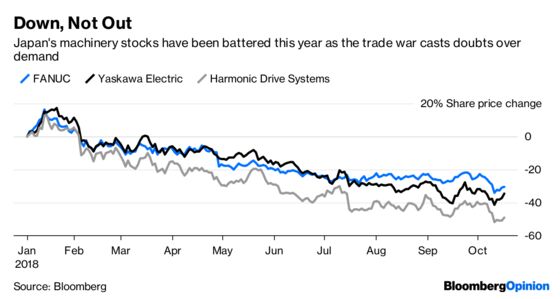 With "Made in China 2025" on the horizon, the real losers are mainland industrial firms: They're shutting out Japanese know-how just when they need it most.
This column does not necessarily reflect the opinion of the editorial board or Bloomberg LP and its owners.
Anjani Trivedi is a Bloomberg Opinion columnist covering industrial companies in Asia. She previously worked for the Wall Street Journal.