China Premier's Cautious Take on Economy Boosts Commodity Pessimists
(Bloomberg) -- Premier Li Keqiang's latest message on China's fragile economy should embolden commodities investors betting on strong headwinds for demand into 2022. 
The economy is facing new downward pressures, Li said in a radio address that highlighted difficulties facing small and medium-sized companies in particular. 
More importantly, the broadcast added to signs that Beijing won't unleash any big commodities-friendly shift in policy -- even as the economy is battered by slowdowns in property and manufacturing, and facing risks from power shortages and virus outbreaks. 
While Li offered tax cuts to small businesses, he reiterated the so-called "cross-cyclical" approach that economists believe steers policy more toward long-term objectives and less on tackling short-term pressures. 
"The backdrop of China's deleveraging push, commodity inflation and power crunch suggests China's domestic growth may be faltering, and weak enough to bring shakiness to the recovery and commodity demand for the rest of 2021," Bloomberg Intelligence analyst Henik Fung wrote in a note focused on the oil market.
Read more: Oil Demand Faces Tough Reality Check on China's Faltering Growth
Metals reached multi-year highs on supply fears in October, but the main driver now is arguably turbulence in China's demand. Copper futures in Shanghai closed Tuesday at their lowest in a month, while iron ore in Dalian plunged to its lowest since April 2020.
Metals are still at "sky-high levels" even relative to China's recent weak factory data, analysts from Capital Economics wrote in a note this week. "This adds to our view that prices have quite a long way to fall over the next year or so as constraints on supply caused by power shortages start to fade." 
Separately, lending to the real estate sector recovered to normal levels last month, the Shanghai Securities Journal reported, citing government data. But that probably doesn't alter the wider push to clean up the sector's finances that is weighing on construction activity.
The government's property-tightening measures will maintain pressure on steel demand, an official from Baoshan Iron & Steel, the world's top producer of the material, said, according to a Citigroup Inc. note citing comments at a conference.
(All times Beijing unless noted.)
Caixin China services & composite PMIs for October, 09:45
COP26 climate summit in Glasgow, Scotland, through Nov. 12
China is planning at least 150 new nuclear reactors in the next 15 years, more than the rest of the world has built in the past 35. The effort could cost as much as $440 billion and put the nation ahead of the U.S. as the world's largest generator of nuclear power.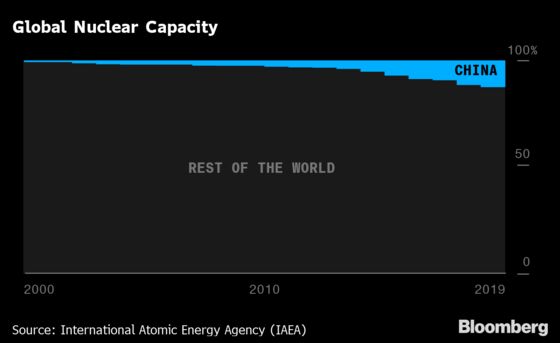 | | |
| --- | --- |
| Markets Latest |   |
| Copper +0.8% in Shanghai | Crude oil -2.4% in Shanghai |
| Aluminum -0.2% in Shanghai | Nickel +0.3% in Shanghai |
| Iron ore +4.2% in Dalian | Steel rebar -6.2% in Shanghai |
| Thermal coal +6.8% in Zhengzhou | Coking coal +10.9% in Dalian |
| Live hogs +0.6% in Dalian | Corn +0.5% in Dalian |
China is unlikely to embark on major new developments of coal-fired power even as it boosts output of the fuel to ease electricity shortages, according to a front-page commentary in a key state-run newspaper.
Coal futures in China halted a 10-day losing streak that's eroded half their value after Beijing took efforts to boost output and tame prices to ease power shortages.
China Says It Won't Abandon Climate Goals By Moving Back to Coal
China Diesel Woes Ease After Intervention With Eye on Cold Snap
Top Solar Panel Maker Longi May Be Next China Target in U.S. Ban
Oil Demand Faces Tough Reality Check on China's Faltering Growth
China's Carbon-Neutral Goals a Windfall for Nuclear Power Stocks
Jet Fuel Demand Plummets as China Culls 23,600 Flights: BNEF
China Fertilizer Exports Should Normalize After 2022: Mosaic CEO
Fisker Says CATL Will Supply Ocean SUV's Batteries from 2023
China Vice Premier Urges Bringing Power Capacity to Normal: CNR
China's October Manufacturing PMI Signals Slowdown
Baowu, Top Global Steelmaker Seeks Hydrogen Lead: BNEF Chart
Caixin China services & composite PMIs for October, 09:45
USDA weekly crop export sales, 08:30 EST
Annual China International Import Expo in Shanghai, through Nov. 10
CNGOIC monthly report on Chinese grains & oilseeds
China weekly iron ore port stockpiles
Shanghai exchange weekly commodities inventory, ~15:30