China Leisure Spending Remains a Drag on Rebounding Economy
(Bloomberg) -- China's hotels and restaurants, one of the hardest-hit industries in the economy during the coronavirus pandemic, remained a significant drag on growth in the third quarter even as the recovery steadily gains momentum.
The sector contracted 5.1% from a year ago, the statistics bureau said Tuesday in a supplemental report on gross domestic product, an improvement from the 18% decline in the second quarter. For the first nine months of the year, output was down 19.1% compared to the same period in 2019.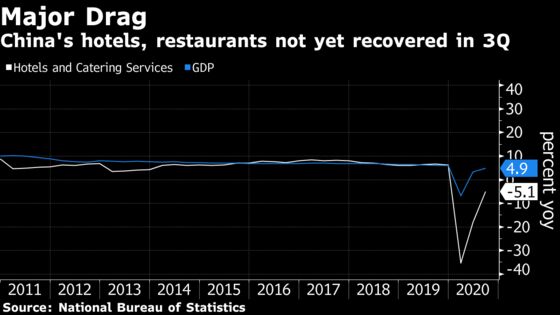 China's economic rebound is strengthening, with data Monday showing gross domestic product climbed 4.9% in the third quarter from a year ago, with a notable pickup in consumer spending as virus-related restrictions ease. However, the contraction in leisure spending like hotels and restaurants shows confidence hasn't fully recovered. Retail sales in the nine months through September is also still about 7% lower than the same period last year.
An industry breakdown of the GDP data showed leasing and commercial services was the only other sector to decline last quarter, contracting 6.9% from a year ago. The fastest growth came from information technology, which surged 18.8%.
Growth in the construction sector remained solid, rising 8.1% in the quarter from a year ago, reflecting strong credit support from the government to boost infrastructure and a buoyant property market.
China's Third Quarter Gross Domestic Product: Details (Table)
This week's GDP data confirms China as the world's only major growth engine, with the industry-led recovery broadening out to other sectors. The central bank on Tuesday left unchanged the one-year and five-year loan prime rates -- or the de facto benchmark rates for bank loans to corporate and households -- suggesting it's comfortable with the current level of policy accommodation.
What Bloomberg's Economists Say

"High-frequency indicators suggest the rebound in domestic demand continued to support the Chinese economy's recovery in the first half of October. Buoyant sentiment should remain supportive, particularly for household consumption. That said, it may take time for consumer spending to return to pre-pandemic levels."

Click here to read the full report

David Qu, Bloomberg Economics
Meanwhile, some economists have been debating the effect revisions to China's fixed-asset investment may have had on the headline numbers. China's National Bureau of Statistics said Monday that 2019 data for investment and retail sales were revised following the fourth economic census conducted last year, without providing details of the revisions. The NBS has been publishing monthly data using the new 2019 bases since the start of the year.
China Beige Book, which provides independent data on the economy, said on Twitter the revisions had the effect of reducing the January-September 2019 investment figures, resulting in a year-on-year gain in 2020. NBS wasn't immediately available when contacted by Bloomberg by phone.