In China, Prudence Is a Virtue (for Now)
(Bloomberg Opinion) -- If this is prudence, let's have more of it.
The People's Bank of China's bit-by-bit approach to spurring growth is letting fiscal policy take a welcome turn at the wheel. It also amplifies a trend seen in other major economies, where central banks are carrying less of a burden relative to the past decade.
The message was on vivid display this week when top officials indicated that tax cuts are, for now, their preferred means to buttress China's expansion, which faltered at the end of last year. The fillip is warranted: Car sales fell for the first time in almost three decades, imports plummeted 7.6 percent in December and manufacturing shrank.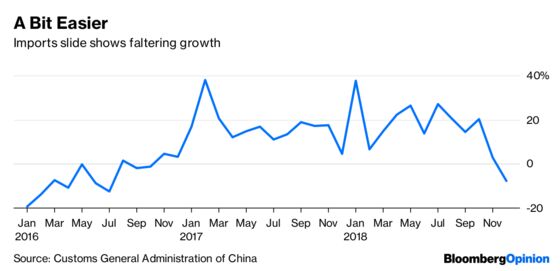 Beijing is trying to navigate between arresting a slide in activity and making a policy error by trying to do too much. Every few years, China has embarked on a pronounced round of stimulus to keep the expansion chugging along. The most iconic example was the infrastructure binge unleashed in 2008-2009, which contributed to a debt surge authorities are still trying to address. They don't want a repeat performance.
Fair enough. The big caveat is that officials also crave stability in an economy whose double-digit boom days are behind it. Gross domestic product will likely increase by 6 percent in 2020, down from 6.9 percent in 2017, according to economists polled by Bloomberg.
With the world economy slowing, the last thing needed is a collapse in Chinese activity. The country, whose superlatives have long been touted as the biggest thing on the economic stage in generations, is already making a diminishing contribution. China accounted for more than 36 percent of global GDP growth in 2016; that's now closer to 32 percent, according to KKR & Co. A sharper dip too quickly wouldn't be a great thing.
The tilt toward fiscal levers doesn't mean the PBOC is absent. "Prudence," as the central bank puts it, isn't a cue to leave the building. For all the associations with frugality, it was dropping the word "neutral" that signaled the central bank's predisposition toward easing late last year. The idea here is monetary policy can and should do more — just not too much.
In practice, this has meant a little more liquidity here, a cut in lender reserve requirements there. These individual steps can look anodyne, but they add up. The reserve reduction that greeted the new year was broader in scope than those to date.
Soft landings are great in theory, but devilishly hard in practice. Hopefully, this can be one of the few exceptions to the rule.
Prudence isn't always a virtue. Let's give it some time before bailing.
This column does not necessarily reflect the opinion of the editorial board or Bloomberg LP and its owners.
Daniel Moss is a Bloomberg Opinion columnist covering Asian economies. Previously he was executive editor of Bloomberg News for global economics, and has led teams in Asia, Europe and North America.