China's Big Banks Post Record Profits Ahead of Virus Crisis
China's big banks posted record earnings last year, beefing up their capacity to cope with the virus outbreak that's threatening to throw the nation into the worst economic slump in four decades.
In simultaneous earnings releases on Friday,Industrial & Commercial Bank of China Ltd. and Bank of Communications Co. said profit in 2019 gained 5%, while Bank of China Ltd. posted a 4% increase, all beating estimates.
Top executives at the banks offered few signs of any stress as they presented their reports. ICBC President Gu Shu said the lender has support to maintain stable asset quality as China's economy remains resilient with the long-term trend intact. Bank of China President Wang Jiang said the impact from the virus outbreak is short term, calling it manageable.
Stable earnings at China's biggest lenders, which account for 40% of the nation's $41 trillion banking assets, may help cushion the financial system against further shocks at a time when banks are being enlisted to help struggling businesses stay afloat at the cost of their own profits. The industry is facing mounting pressure as banks are depleting their capital and bad-loan reserves in efforts to roll over delinquent loans and cushion the economic slump.
"Slowing economic activities alongside a suppressed interest rate movement as a result of the government pump-priming exercise will present challenges to China banks," CCB International analysts led by Lawrence Chen wrote in a note on March 16. "These factors will lead to poorer earnings quality and earnings downgrades post-results announcements."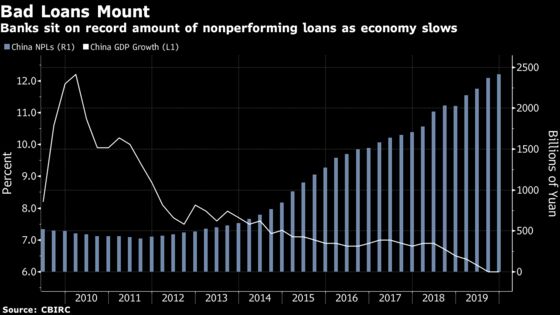 China will see the slowest growth this year in more than 40 years, according to economists, who have drastically slashed their GDP forecasts after an across-the-board slump in activity in the first two months of the year, even as the nation is now ramping up its economy.
S&P Global estimated last month that a prolonged health emergency could cause China's non-performing loan ratio to more than triple to about 6.3%, amounting to an increase of 5.6 trillion yuan in bad debt. China has since loosened the standards for recognizing bad loans as part of its crisis measures, and the ratings firm expects "questionable" loans to peak at 11.5% of gross loans in the aftermath of the epidemic.
In a severe downside case, the banking industry could face an unprecedented 39% slump in profits this year, according to UBS Group AG. Without the government's forbearance measures, their earnings may tumble by 70% to absorb all potential loan losses this year.
"The banking system hasn't seen negative growth in profit over the years as they still managed to grow 2% through the relatively difficult period in 2015 and 2016," UBS's Hong Kong-based analyst May Yan said.
Deterioration in banks' asset quality and profitability are raising concerns that more regional banks will come under pressure after battling for their own survival last year. Jinzhou Bank Co., which was rescued last year, received an additional 12.1 billion yuan of capital in March as Beijing takes steps to beef up its weak lenders.
People's Bank of China Deputy Governor Chen Yulu signaled earlier that the government would continue its current moderate stimulus policies. Consisting so far of adjustments to tax policy, trimmed interest rates, cheaper loans, and extra liquidity, China's actions are in stark contrast to the trillions of dollars in fiscal support and steep cuts to interest rates being enacted in the U.S. and Europe.
Chinese banks may see worsening performance across net interest margin, fee income growth and asset quality this year, according to CCB International.
Earnings highlights for 2019:
ICBC net income 312 billion yuan, up from 297.7 billion yuan
BOC net income 187 billion yuan, up from 180.1 billion yuan
Bocom net income 77.3 billion yuan, up from 73.6 billion yuan
Investors have never been so downbeat on Chinese lenders' outlook. Shares of the biggest banks are trading at about 0.55 times their forecast book value, a near record low valuation, after underperforming the benchmark indexes in Hong Kong and on the mainland for most of the past five years.
Still, analysts at CCB International and UBS believe the biggest lenders could weather the near-term shocks.
"China's banking system is still solid given the buffer provided by the regulators," said UBS's Yan. "They still have the ability to handle the potential increase in nonperforming loans."