China's Government Has More Room to Leverage Up as Growth Slows
(Bloomberg) -- China's government has room to borrow more if it wants to to prevent a further slowdown of the economy.
That's the conclusion of 21 of 28 economists surveyed by Bloomberg this month when asked which of the nation's sectors has the most space to leverage up should current easing measures prove insufficient to shield the economy from the effects of a financial clean up and the trade war.
Click here for full details on the survey results
The authorities could step up fiscal expenditure and cut value-added tax and corporate income tax for a more proactive policy, the survey showed.
President Xi Jinping's multi-year campaign to clean up excessive debt, particularly in the corporate sector, has caused funding difficulties for private businesses but also for local officials, as their usual channels such as shadow banking and local financing vehicles both narrowed.
While that'd probably be a good thing for the nation in the longer term, the unexpected engagement with the U.S. in the trade war has increased uncertainty and raised the urgency for policy makers to come up with more on-budget spending to shore up growth.
"While some sectors are cutting debt, the others will have to raise the leverage ratio to support growth," said Zhang Xiaojing, a researcher at the National Institution for Finance and Development, adding it's time for the government sector to "undertake bigger responsibility."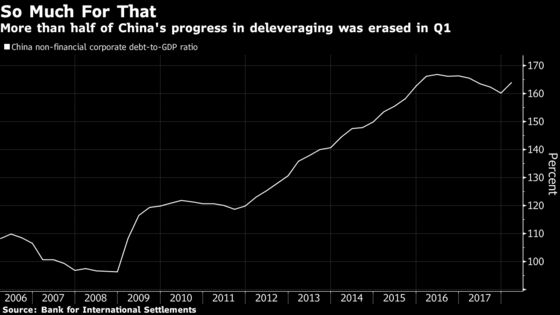 While China's overall debt run-up in recent years has been rapid, with overall leverage rising to more than 265 percent of gross domestic product by the end of 2017. The government's share of that has risen less quickly, standing at about 36 percent of GDP according to Bloomberg Economics' calculations.
And although the authorities have implicit payment liability for some borrowing of state firms and local financing vehicles, economists still see some room for more debt. In the same survey, economists said they expected the state to expand the budget deficit next year.
"The deficit ratio should be higher than 3 percent. There's no need to hold the line," said Xu Gao, chief economist at China Everbright Securities Co. in Beijing. The central government refraining from allowing more on-budget borrowing would only force local officials to return to the hidden ways, which would be less transparent and more expensive, he said.