China's Economy Isn't Back to Normal Yet, Energy Demand Shows
(Bloomberg) -- The faltering return of China's oil refineries, power plants and gas importers shows it's too soon to count on the world's biggest energy user to revive beleaguered global prices.
Early signs of a pick-up in activity had raised hopes that China could help support raw materials demand as it returned to work after virtually shutting down because of the coronavirus. But as the spread of the pandemic to Europe and the U.S. plunges energy markets deeper into crisis, the latest data are a warning to the world's commodity producers that China's road to recovery could be a long one.
There's little doubt that the nation's factories and firms are slowly coming back online, with Bloomberg Economics estimating that the economy was operating at as much as 80% of normal capacity as of March 6. But, the return is patchy, logistics and ports are not fully operational and there are still millions of migrant workers who haven't returned to their jobs or are stuck in quarantine.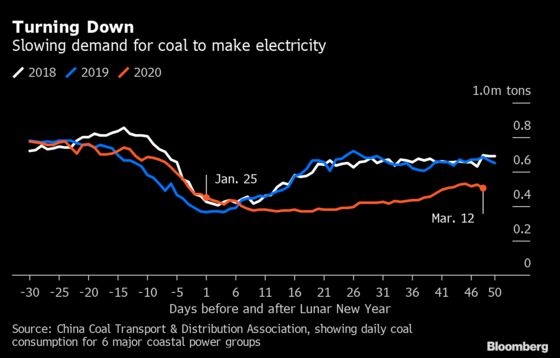 Rebounding for transport, coal and natural gas seems to have stalled. Daily coal use by the coastal power plants of six big utilities -- a closely watched indicator of electricity demand -- was at 507,300 tons on Thursday, about 18% lower than a year ago and showing signs of stalling after more than a week of gains, according to data from the China Coal Transport & Distribution Association.
"The slow resumption of manufacturing activities is curbing the recovery in coal burn at power plants," said Wang Miao, an analyst with Huatai Futures. "The warming weather can also damp energy demand, but it's secondary at the moment."
China's oil refineries, which supply the nation's transport fuels, have also slowed their return. Refiners have increased processing rates by 130,000 barrels a day this week, compared with the 300,000 barrels-a-day pace the previous two weeks, according to senior officials at the nation's top refiners. Almost all of that expansion is coming from China's private plants, rather than the three state-owned companies, said the officials, who asked not to be identified as the information isn't public. The nation's total refinery run rate is now about 10.7 million barrels a day, they said, compared with more than 13.8 million in December.
The latest estimates on processing will pour cold water on any hopes for a China-led turnaround in the near future for oil prices, which have crashed by almost 50% since January. That's when Beijing shut swathes of the country to contain the virus. It was the resulting collapse in China's fuel demand that first triggered a sell-off and ultimately led to the supply free-for-all that's hammered prices in the past week.
And despite an initial jump in liquefied natural gas imports last month, deliveries have been dropping week-over-week, and are seen falling to the lowest since mid-February, when factories were closed due to the extended Lunar New Year holiday, according to Rebecca Chia, an analyst at data intelligence firm Kpler.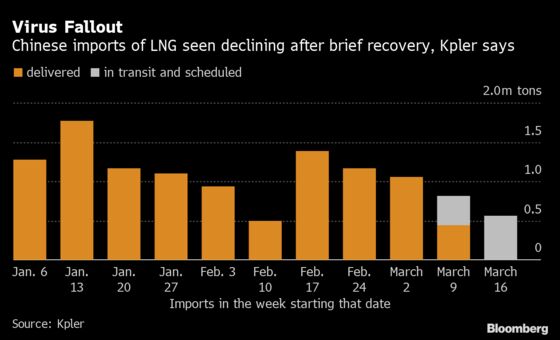 Warmer weather is also not helping, as it curbs the need for energy for heating. The Shanghai Petroleum & Natural Gas Exchange said this week that the oversupply situation remains relatively unchanged and that imports will be sluggish through April. That excess supply has led China's importers of natural gas to issue forces majeures on LNG and pipeline gas shipments. The Japan-Korea Marker, a benchmark for LNG in Asia, is trading down about 50% from the same time last year.
China is forecast to import about 560,000 metric tons of LNG in the week starting March 16, just marginally higher than the week started Feb. 10, according to a Kpler data based on vessels in transit and scheduled. The figure could still rise as more vessels ping for delivery to China, according to Chia.
Citigroup Inc. analysts this week estimated the amount of gas demand lost in China due to Covid-19 at around 8 billion cubic meters. That's 2.6% of last year's 307 billion cubic meters of demand, or nearly one-third of an average month's consumption, data from the National Development & Reform Commission show.