China's Current Account Surplus Rises to Highest Since Late 2017
(Bloomberg) -- Go inside the global economy with Stephanie Flanders in her new podcast, Stephanomics. Subscribe via Pocket Cast or iTunes.
China's current account surplus continued to rise in the first quarter of 2019, pushed up by the largest primary income surplus on record.
The current-account balance in the first three months of this year was $58.6 billion, according to a State Administration of Foreign Exchange report Friday, compared with $54.6 billion in the last quarter of 2018.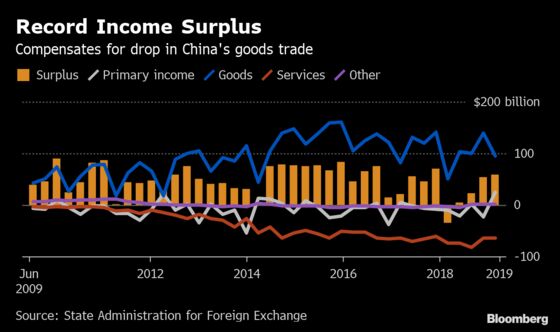 The primary income surplus, which mainly shows profits on overseas investments, rose to a record
As China transforms into a consumption-led economy from the factory of the world, the size of the current account balance compared to gross domestic product has been declining, and it's likely to hit 0.1% this year, according to Bloomberg surveys
Concern about the balance falling into deficit are easing on a higher trade surplus, as imports slowed more than exports this year, Larry Hu, head of Chinese economics at Macquarie Securities Ltd. in Hong Kong, wrote in a note ahead of the data
The full year balance was $49 billion in 2018, the smallest since 2004
Detailed breakdown of the balance