China's Credit Growth Picked Up in May Amid Policy Support
(Bloomberg) -- China's credit growth picked up in May amid continued policy support as the government tries to nurture a gradual economic recovery from the first quarter slump.
Aggregate financing was 3.2 trillion yuan ($451 billion), the People's Bank of China said Wednesday. That compares to 3.09 trillion yuan in April and 1.7 trillion yuan in the same month last year. The median estimate of economists was 3.1 trillion yuan.
Financial institutions offered 1.48 trillion yuan of new loans in the month, versus a projected 1.6 trillion yuan.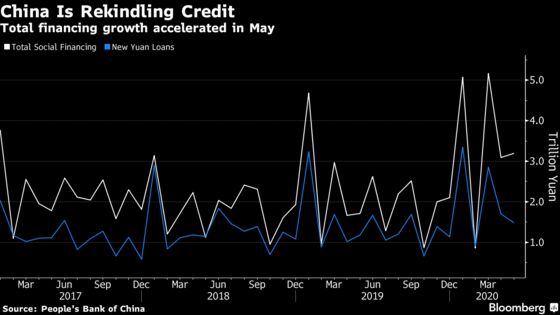 Broad M2 money supply grew 11.1% from a year earlier.
The stock of outstanding credit was 268 trillion yuan in May, 12.5% larger than a year ago, the People's Bank of China said Wednesday. That accelerated from April.
Analysts were split on the implications of the data. Michelle Lam, greater China economist at Societe Generale SA in Hong Kong, pointed to the recent rise in bond yields as a tightening of credit conditions that could spur further monetary policy easing. "Down the road, if not soon, we still expect reserve-ratio and rate cuts from the PBOC to temper expectations for less easing," she said.
On the other hand, "such a performance in monetary aggregates bodes very well for aggregate demand expansion in months to come," said Dariusz Kowalczyk, chief China economist at Credit Agricole SA. "It slightly limits the scope for interest rate cuts," he said.
This month, the central bank said it will use 400 billion yuan to temporarily purchase loans made to small businesses from some local banks, a new policy to boost the supply of lending to the real economy.