China's Stronger Than Forecast Credit Signals Stimulus at Work
(Bloomberg) -- China's credit growth exceeded expectations in December, with the second acceleration in a row indicating the government and central bank's efforts to spur lending are having an effect.
Aggregate financing was 1.59 trillion ($235 billion) in December, the People's Bank of China said on Tuesday. That compares with an estimated 1.3 trillion yuan in a Bloomberg survey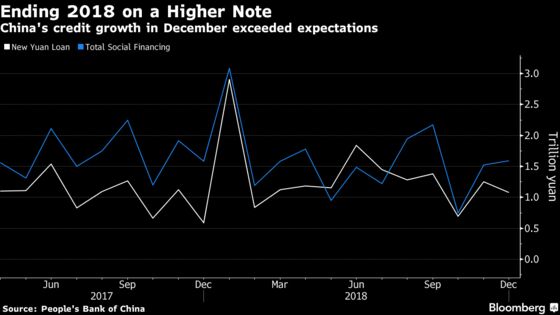 New yuan loans were 1.1 trillion yuan, versus a projected 825 billion yuan
Broad M2 money supply increased 8.1 percent, compared to 8 percent in November
The data offers further signs that piecemeal measures last year such as targeted cuts in the amount of cash lenders must hold as reserves have started to work
"The monetary and loan data suggest stabilized monetary conditions," according to Raymond Yeung at Australia & New Zealand Banking Group Ltd. in Hong Kong. The slight increase in M2 seems to show the impact of successive RRR cuts. Further cuts including those in January will increase the money multiplier. This will help prevent M2 falling further and avoid an disorderly contraction of credit conditions."
Aggregate financing increased less in 2018 than 2017 as banks' off-balance-sheet financing declined and financing demand weakened, Ruan Jianhong, director of the PBOC's Statistics and Analysis Department, told reporters after the release
Policy makers are still trying to encourage banks to support private and smaller firms, with the latest moves a universal reduction in the reserve requirement and a new lending facility