China Rolls Over $31 Billion in Medium-Term Loans to Banks
(Bloomberg) -- China provided medium-term funds to lenders on Thursday, giving banks some relief after its cash drainage last month triggered the country's worst liquidity squeeze since 2015.
The People's Bank of China offered 200 billion yuan ($31 billion) of one-year liquidity with its medium-term lending facility, according to a statement. That helped offset the loans that mature this month. It kept the interest rate on the funds unchanged at 2.95%.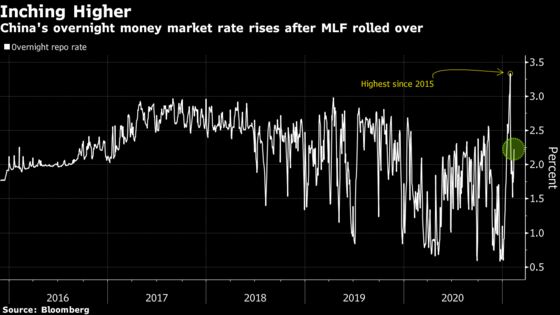 While officials remain wary of excess liquidity, Thursday's move adds to signs that the central bank is in no rush to repeal measures put in place to support the economy. The PBOC last week downplayed the significance of its recent cash withdrawals, saying in a quarterly report that authorities won't make "sharp turns" in monetary policy.
"The move was as expected, which reflects that the PBOC's policy stance is still neutral," said Ken Cheung, a strategist at Mizuho Bank Ltd. "The central bank still wants to keep a certain amount of liquidity in the market."
The overall supply and demand for liquidity is balanced even though prices for overnight repos were higher than before the Lunar New Year holiday, according to one trader, who asked not to be identified because they were not authorized to comment on the market.
The overnight repurchase rate -- a gauge of short-term interbank borrowing costs -- was up 51 basis points at 2.34% as of 3:03 p.m. in Shanghai. The seven-day rate rose 2 basis points to 2.23%.
The central bank tightened funding conditions in the banking system last month amid worries over frenzied investments that could inflate asset bubbles in the financial and property markets. The overnight repo rose to the highest since 2015 at the end of January, resulting in the largest monthly increase in the cost since 2010. That ended a two-month period of cheap and plentiful funds that had helped support sentiment after a spate of high-profile credit defaults late last year.
Policy makers have since released some short-term funds through reverse repurchase agreements to restore market stability. But they refrained from injecting cash for longer-term use even as liquidity demand spiked before the Lunar New Year holiday, a reversal of what the central bank did in 2020 and 2019.
The PBOC also offered 20 billion yuan of seven-day reverse repurchase agreements on Thursday. Some 280 billion yuan of short-term instruments are due.