China's PBOC Braces for Weaker Yuan as Fed Plans Tapering
Having sought to curb the yuan's recent rapid advances, the People's Bank of China is now dealing with a currency sliding on the prospect of higher U.S. rates.
The exchange rate fell the most in nearly three months in offshore markets Wednesday, after the Federal Reserve signaled a faster-than-expected pace of policy tightening -- a move that saw the dollar rise. A forum backed by the Chinese central bank released a statement urging corporates to hedge against yuan volatility, right after a state-run paper said the currency could start to decline.
The yuan rose to multi-year highs versus the dollar and a basket of peers last month, as China's economy rebounded from the pandemic and foreign funds poured into the nation's equity and bond markets. The PBOC sought to limit the rally by setting its daily reference rate at weaker-than-expected levels and making it more expensive for lenders to be long the dollar. Still, China's currency is near its strongest since 2018 and among Asia's best performers this year with a 1.5% gain.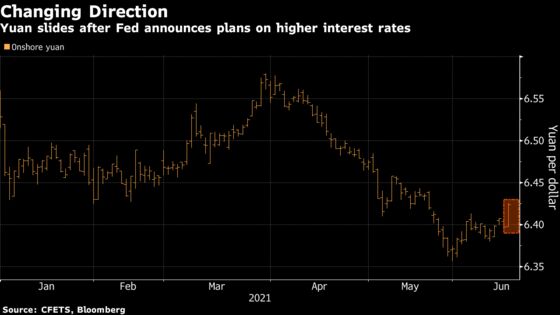 "The Fed will definitely start tapering eventually, so it's normal that the PBOC and investors are now concerned with yuan depreciation," said Gao Qi, a currency strategist at Scotiabank in Singapore. "In the short-term, the yuan could rebound as the market has overreacted to news on tapering. But still, bets on tighter U.S. policy should have dampened confidence in the yuan, which will drop every time there's news on the Fed being hawkish in the second half."
The PBOC has always been cautious about yuan volatility in either direction, as it strives to keep financial markets steady to avoid risks. Rapid depreciation raises risks of fast capital outflows, hurting China's push for the global use of its currency.
The offshore yuan weakened the most since late March in Hong Kong on Wednesday after Fed forecasts showed that it anticipates two interest-rate increases by the end of 2023, sooner than many expected. The same day saw the central bank-backed China Foreign Exchange Committee warn that the yuan could depreciate due to weaker exports and a stronger dollar, and that corporates should avoid speculating on its direction.
On Thursday the onshore yuan fell 0.5% in Shanghai --the largest drop since March 8 -- to 6.4292 per dollar. It gained 0.1% offshore.