Six-Day Rally in China's Sovereign Bonds Fails to Inspire Bulls
(Bloomberg) -- The recent surge in China's government bonds may not last long enough for them to match the global rally that's taken benchmark yields to multi-year lows.
That's according to analysts who cite domestic headwinds such as liquidity worries, reduced trading by smaller banks after the surprise government takeover of one lender and an upcoming surge in supply of municipal bonds.
Some bears like Hao Zhou, a senior emerging markets economist at Commerzbank AG, said China's 10-year yield could climb to 3.6% by the end of the third quarter. The bulls at SWS Research Co. only see the yield falling at most to 2.9%. Others from Citigroup Inc. and Citic Securities Co. see the notes trading around 3.2%.
The yield on China's most actively traded 10-year bonds has tumbled 12 basis points in the past six sessions to 3.23% in Shanghai Tuesday. While that's the lowest level in two months, it's a far cry from the slide in Treasury yields, which have hit levels unseen since 2017. The divergence has pushed the yield gap between Chinese sovereigns and Treasuries to near the biggest in 16 months.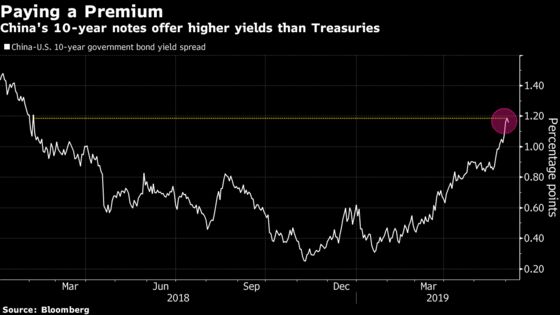 "While the wider yield spreads over Treasuries should be supportive of China government bonds, there may still be lingering worries on credit risk in the onshore market," said Frances Cheung, head of Asia macro strategy at Westpac Banking Corp. Investors are staying defensive until they see more liquidity support from the central bank, she said.
Many analysts expect China's central bank to roll out further easing measures amid a fragile economic recovery and the trade dispute with the U.S. Three trillion yuan ($434 billion) is due to be drained from China's banking system between June and August, according to data compiled by Bloomberg. Some 463 billion yuan of that happens on Thursday.
Lingering concern about the potential implications of the government's takeover of Baoshang Bank at the end of May is also giving investors pause, according to Commerzbank's Zhou. The main worry here is that credit risks or more regulatory scrutiny at small to medium-sized banks might restrict them from actively trading bonds, he said.
There's a glut of municipal bonds coming to the market as local governments aim to issue 3.08 trillion yuan of debt before September. While these notes aren't direct competitors to sovereign bonds, there'll still be a huge surge of supply, Westpac's Cheung said.