Chinese Bonds Feel the Chill as Deadly Swine Fever Spreads
(Bloomberg) -- A rapidly spreading African swine fever in pigs has become a risk for China's bond investors, who're worried that the disease will quicken inflation and deepen a note sell-off.
That's adding to concerns of the supply deluge of municipal bonds that analysts expect may siphon funds away from the inter-bank bond market. Average yields on China's local top-rated corporate notes have climbed 39 basis points in the last four weeks to 4.44 percent.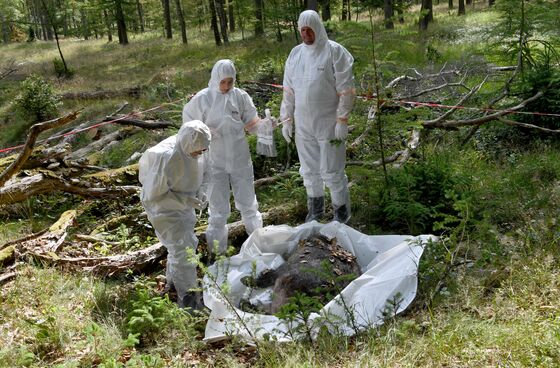 Since early August, the outbreak of hog fever-- with new cases confirmed in the eastern provinces of Jiangsu and Anhui on Monday -- has driven up pork prices by about 10 percent. A flood in the northern province of Shandong, one of the country's largest vegetable producers, has pushed crop prices higher.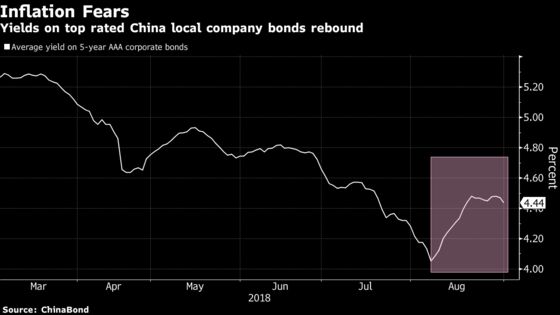 "Bond investors are quite sensitive to any inflation concerns," said Wang Wenhuan, fixed-income analyst from Huachuang Securities Co. "The sudden occurrence of the swine fever, together with flood and rising housing rentals in major cities will definitely curb sentiment on the bond market."
READ: Swine Fever, Flooding Raise Concerns Over Higher China Inflation
Food accounts for roughly 30 percent of China's consumer inflation basket. Consumer prices advanced 2.1 percent in July from a year earlier, quicker than June's 1.9 percent. A further rise in bond yields could erase all the compression in July caused by stimulus measures from Chinese authorities to boost its economy and lower borrowing costs for the corporate sector to cushion the impact of trade conflicts with the U.S.
So far, consumer prices are forecast to increase 2.1 percent this year, but analysts say concerns about the disease spreading will add pressure for prices to accelerate.
In the short term, inflation expectations will most likely rise and there are risks for a rebound in long-end bond yields, Industrial Economics Research & Consulting Co. analysts led by Xu Hanfei wrote in a recent research note.
Not everyone sees the inflation risk as a big worry. Tianhe Ji, a China rates and foreign-exchange strategist at BNP Paribas SA in Beijing, said "inflation is a one-off impact."
"Because of the falling demand from both the investment side and also the consumption side, we don't think there's really a big threat from the inflation side to the bond yield," he said.
(An earlier version of this story was corrected to remove flu in the headline.)