Why Foreign Funds See Pandas in China's Bear Market
(Bloomberg Opinion) -- One person's ceiling is another's floor.
China's stock market is shaping up to be one of the world's worst performers of 2018, but that hasn't stopped foreigners from marching in. Through the link with the Hong Kong exchange alone, they've bought a net $29 billion of mainland shares so far this year.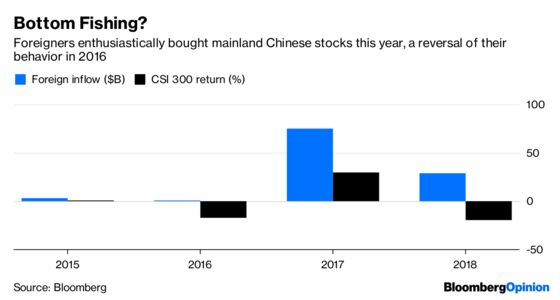 This marks a sharp reversal of attitudes. As recently as two years ago, the phrase "hard landing" was used in almost every comment on China. So frightened was the western world that the surprise devaluation of the yuan in 2015 prompted the so-called Yellen put, a dramatic slowing in the pace of the Federal Reserve's scheduled rate increases.
What led to the divergence?
First, few foreign investors believe the decoupling of the U.S. and Chinese markets can last. The S&P 500 Index has outperformed the CSI 300 Index by a whopping 29 percentage points this year.
The split is partly due to the escalating trade war. China runs a large surplus with the U.S. and is seen on the losing side in this conflict, with billions of dollars more of goods subject to higher tariffs. But China's stock market is heavily domestic. Only 3 percent of publicly traded firms' total sales come from the U.S., according to CLSA estimates. If anything, the S&P 500 Index is more exposed.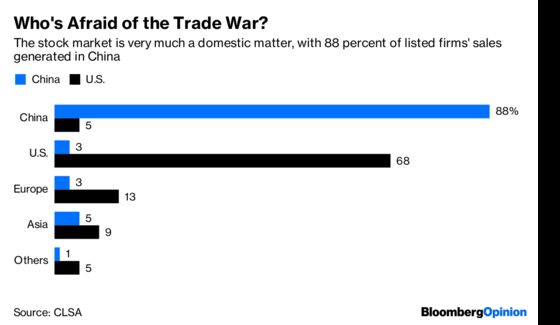 Foreigners are also finding Chinese A-shares' valuations more palatable. On a forward earnings basis, onshore stocks are now cheaper than their offshore brethren for the first time since 2014. At these multiples, and if history were to repeat itself, mainland shares could climb 69 percent over the next 12 months, with close to a 100 percent probability of a positive return, CLSA strategist Mahesh Kedia estimates.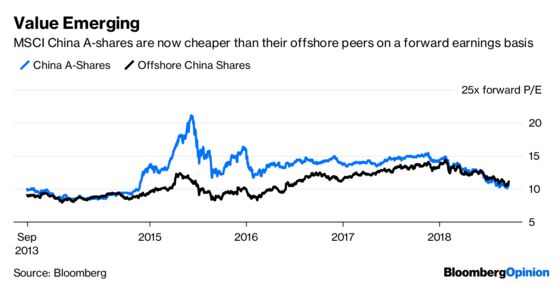 So when trade tensions ease, or investors become inured to the headlines, the U.S.-China stock divergence is likely to narrow, with the mainland the main beneficiary. Foreign funds that bought A-shares could be the biggest winners. Potentially adding to the momentum, MSCI Inc. said Wednesday that it's considering increasing the weighting of these stocks in its global indexes from next year, as well as embracing smaller tech shares.
Mainland investors, on the other hand, haven't been this pessimistic for years. What they see now is a wholesale retreat of the private sector.
Even before trade spat flared up in May, China's market was in solid bear territory. Investors fled on concern they'd be caught up in Beijing's intensified deleveraging campaign, which could hurt private companies a lot more than state-owned enterprises.
They turned out to be right. Operating conditions for smaller firms are indeed worsening. They're holding inventory longer and the time it takes to convert working capital into cash is increasing, as my colleague Anjani Trivedi found after sifting through this year's financials for 4,000 listed companies. 
From raw-material costs to rents, the private sector was already squeezed. Now the Beijing tax authorities are marching in, asking smaller firms to hand over 30 percent-plus of an employee's wages to the social security system. How can China Inc. make a profit? 
Since late August, China's National Team — an informal group of state-backed institutional investors set up to rescue the stock market in mid-2015 — has been stepping in again, Jeanny Yu, April Ma and Ken Wang of Bloomberg News reported.
The team only bails out the big state-owned enterprises, however. Smaller firms are left floundering.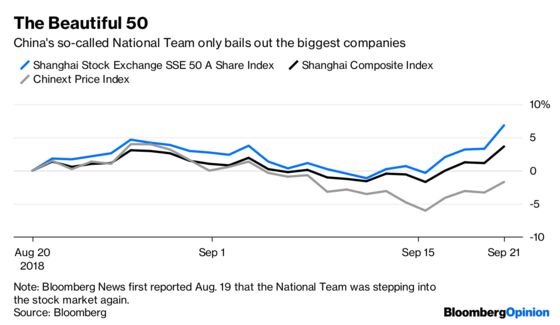 Ultimately, a vibrant stock market is a celebration of private enterprise and ownership. Foreigners own only a tiny slice of the market, and if a majority of investors wonder whether Beijing cares about the private sector at all, it will take a lot more than valuations to revive animal spirits. For now, we're still looking at a panda bear.
This column does not necessarily reflect the opinion of the editorial board or Bloomberg LP and its owners.
Shuli Ren is a Bloomberg Opinion columnist covering Asian markets. She previously wrote on markets for Barron's, following a career as an investment banker, and is a CFA charterholder.