China's Battered Property Shares Surge on Outlook for Profits
(Bloomberg) -- Things are looking up for battered Chinese property stocks this week as positive profit outlooks and a shift toward monetary easing lure investors.
A Bloomberg Intelligence gauge of China real estate shares is heading toward a 6.3 percent gain this week, the best showing since mid-February. The gauge jumped as much as 1.5 percent Thursday before slipping. Shimao Property Holdings Ltd., which bought back shares on Monday and Tuesday, has surged 9.6 percent this week. Sunac China Holdings Ltd., which said its first-half profit may more than triple, is headed for a 5.8 percent gain even as the shares fell today.
"There have been lots of share buybacks before earnings announcements, fueling speculation that upcoming results should be quite good," said Kenneth Tung, analyst at ABCI Securities Co. Positive profit alerts from some property companies are also fueling bets more will follow, he said.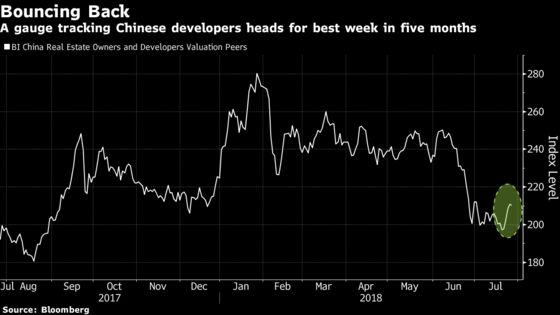 Chinese developer shares tumbled as much as 30 percent from a high reached on Jan. 26. Investors fled the sector amid concern over the government's property curbs and deleveraging measures. They were also spooked by a falling yuan, which would make foreign debt more expensive for developers.
The edge has come off some of those concerns. The People's Bank of China told some banks on Wednesday that a specific capital requirement will be eased to support lending, according to people familiar with the matter. Goldman Sachs Group Inc. weighed in on China's real estate market, saying it's confident in the sector due to developers' lower net gearing and all-time low foreign currency debt exposure.