China's $4 Billion Fund Liquidation Leaves Traders Guessing
(Bloomberg) -- Two funds linked to the Chinese government sold all their holdings of stocks and bonds in the third quarter without explaining why, leaving investors to guess at the implications for the country's turbulent financial markets.
Withdrawals from the CM Fengqing Flexible Allocation Fund and E Fund Ruihui Flexible Fund caused their combined assets to shrink to 296 million yuan ($43 million) at the end of September, from the equivalent of $4.5 billion in June, according to quarterly statements dated Wednesday. What remains are bank deposits and other unspecified assets. Both funds, described by state media as vehicles for China's 2015 stock-market rescue, said that 99 percent of their units were redeemed during the quarter. They didn't provide details on who pulled the money and why.
The sparse disclosures prompted a flurry of speculation about the government's response to this year's $3 trillion selloff in Chinese shares. Do the redemptions represent a net reduction of state support for the market? Analysts couldn't say with any certainty. Some or all of that the money could have been moved to other investment vehicles. One sign that the government hasn't retreated: people familiar with the matter told Bloomberg on Thursday that China's "National Team" of state investors has been buying stocks in a targeted fashion over the past week.
"The outflow in the two state funds might signal that the National Team is adjusting its investment strategy," said Liu Wu, an analyst at China Development Bank Securities Co. "It's unlikely to mean the National Team will exit from the stock market. One possibility is that the National Team might intend to reduce their exposure in mutual funds, so as to better allocate their ammo."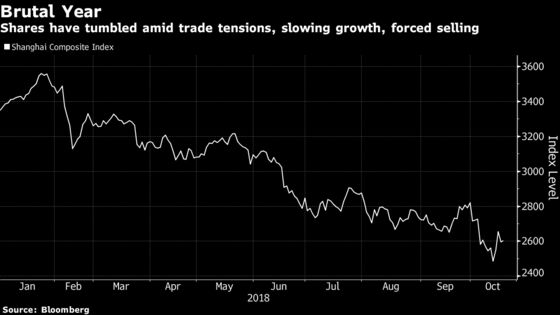 The two funds were among five set up with government money in the summer of 2015, according to the official China Securities Journal. While their statements didn't mention liquidation, the remaining values would automatically trigger termination of contracts under Chinese rules. Both funds held no shares at the end of the quarter, the statements showed.
Some of the money may have flowed into exchange-traded funds, said Dai Ming, a Shanghai-based fund manager at Hengsheng Asset Management Co. The Shanghai-listed China 50 ETF, which tracks large-cap stocks, has attracted about $1.19 billion of net inflows so far in October, on course for the biggest monthly influx since mid-2015, data compiled by Bloomberg show.
"It's likely the National Team will switch from active funds to ETF funds," Dai said. With low management costs and high liquidity, ETFs would be an efficient way for state funds to smooth market swings.
Volatility in China's stock market surged toward three-year highs this month amid U.S.-China trade tensions, weakening economic growth and concerns over pledged shares. The Shanghai Composite Index has plunged about 9 percent since the end of September, touching a four-year low on Oct. 18.
While the National Team plowed billions into stocks to prop up the market in 2015, authorities have taken a more measured approach this year, focusing primarily on helping cash-strapped companies gain access to financing. President Xi Jinping vowed "unwavering" support for non-state firms over the weekend while the country's stock exchanges committed to help manage margin-call risks tied to shares that have been pledged as collateral for loans. The government also released a plan to cut personal income taxes.
The Shanghai index, which closed 0.3 percent higher on Wednesday after a volatile session, dropped as much as 2.8 percent on Thursday before rallying to trade little changed as of 2:35 p.m. local time.
Uncertainty surrounding the fund liquidations may be weighing on investors, said Hao Hong, chief strategist at Bocom International Holdings Co. in Hong Kong.
"If these funds are liquidated en masse without the government explaining whether the funds are just being moved, it will affect the already fragile sentiment," he said.