China Lending Crackdown Deals Blow to World's Biggest Car Market
(Bloomberg) -- China's escalating crackdown on peer-to-peer lending could hardly have come at a worse time for the country's slumping car market.
P2P platforms, many of which are likely to wind down under a Chinese plan to shrink the industry, facilitated 248 billion yuan ($36 billion) of auto loans in 2017, or more than a fifth of the total, according to data compiled by 01Caijing and Askci Corp. P2P auto lending dropped 20 percent in the first half of this year, the figures show, and may shrink even further as policy makers push small- and medium-sized operators to close.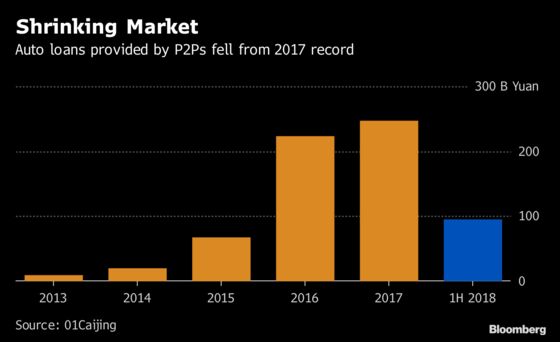 The drag on Chinese car sales, which may post an annual decline for the first time since at least 1998, highlights the dilemma for policy makers as they try to rein in the shadow finance sector without stifling economic growth. While banks could step into the void left by a shrinking P2P industry, their stricter credit standards may leave many cash-strapped borrowers in the lurch.
Year-on-year Chinese car sales have already contracted for five straight months, as tighter credit conditions and trade tensions with the U.S. crimped consumer spending. The effect from a lower auto purchase tax between 2015 and 2017 also cut into sales, according to Bloomberg Intelligence. Inventory levels are at a record high, data from the China Automobile Dealers Association show.
Read more: Unsold cars in China pile up to record
"The clampdown on P2P lending makes vehicle less affordable," said Steve Man, Bloomberg Intelligence's Hong Kong-based auto analyst. "Consumers are likely to hold off big-ticket purchases until there are supportive policies that effectively cut retail prices."