China Junk Bonds' Longest Winning Streak Unnerves Investors
(Bloomberg) -- The return of China's dollar-denominated junk bonds from the brink with the longest rally on record is showing signs of strain.
After 13 straight days of declines, yields on Chinese speculative-grade notes have bounced back, climbing for the past two days to hit 9.5 percent Aug. 2, ICE Bank of America Merrill Lynch indexes show. While yields have been falling as authorities take an easing path to bolster its economy, Dongxing Securities (HK) Asset Management Co. says the risk that China could once again give more prominence to its deleveraging drive may spoil the party.
"Although market sentiment has improved quite a bit for now, no one knows at this point how long the easing policy will sustain," said Chak Lau, a credit investment manager at Dongxing Securities (HK) Asset Management Co. "It's difficult to say whether the central bank will stop the music and continue to emphasize the deleveraging campaign again. Therefore, the potential risk of the spread to widen again is still lingering."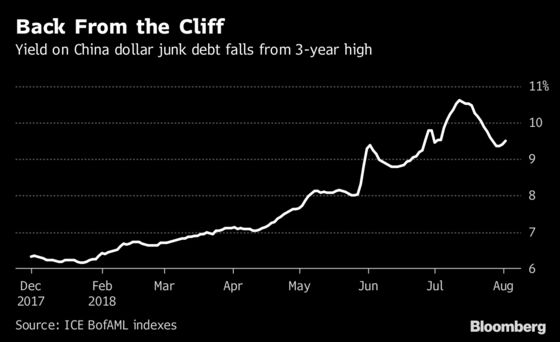 It was just only two weeks ago when Chinese yields shot up to a three-year high of 10.6 percent as concerns about more defaults as a result of the government's crackdown on shadow banking spurred a selloff. The pain was compounded by the trade standoff with the U.S. and the threat of higher Federal Reserve interest-rate increases.
Last month, China unveiled a package of policies to boost domestic demand, while the People's Bank of China stepped up its efforts to support bank lending by making a record injection of longer-term funding available to commercial lenders. These measures triggered a relief rally for Chinese credit markets as cash conditions eased.
Read: China Markets About to Face $80 Billion Bond-Redemption Test
"If we look away from China, what has changed? Nothing really," said Alejandro Arevalo, a London-based fund manager at Jupiter Asset Management. "I have my question mark because still you have the background of the stronger dollar, you have concerns about the trade war and you have the Fed that is determined to increase rates," he said. "So the core problems that investors have are still there."
China's Politburo signaled Tuesday that policy makers will focus more on supporting growth, while the campaign to cut leverage will continue at a measured pace.
Jimond Wong, senior portfolio manager at Manulife Asset Management in Hong Kong, said the rally may not have legs. "The market is quite technical with lower liquidity in summer and some companies in issuance blackout before the results -- I would have more conviction if the eventual pipeline is properly absorbed," he said.
Major corporates still want to maintain their access to offshore markets, he said. With offshore funding being a small part of the financing channel for them, they will return once the market stabilizes, he said. "May and June were temporary stuttering."
China high-yield dollar note sales fell 26 percent year-to-date to $18.5 billion, according to data compiled by Bloomberg. The bonds posted 3.8 percent of losses during this period, following six years of gains, ICE BofAML indexes show.
Not everyone is concerned. Todd Schubert of Bank of Singapore says China's measures to spur growth will help bolster the bond market.
"The focused monetary and fiscal policies undertaken by the Chinese authorities in the past week should provide a further tailwind for performance," said Schubert, head of fixed-income research at Bank of Singapore. He sees China junk bond yields at 8 percent by year-end.