China Plans Broad Import Tax Cut as Soon as October
(Bloomberg) -- China is planning to cut average tariff rates on imports from the majority of its trading partners as soon as next month, two people familiar with the matter said, in a move that would lower costs for consumers as a trade war with the U.S. deepens.
The two people asked not to be named because the matter isn't public yet. Premier Li Keqiang said Wednesday that China would reduce tariffs, though he didn't elaborate.
It's not yet clear how the planned reduction would affect imports from the U.S., if at all, including Chinese retaliatory tariffs on American products amid the trade war. Those details may only emerge once the government outlines which products will enjoy lower tariffs. Any reduction of tariffs usually must be offered to all countries equally under World Trade Organization rules.
The move comes as the nation is trying to stimulate domestic consumption to support a slowing economy, and follows similar cuts to tariffs in July on a wide range of consumer goods. It's also in step with China's pledge to support more imports.
See what Bloomberg Economics' chief economist says about the news
"This is in line with China's longstanding strategy of opening," said Nicholas Lardy, a China expert at the Peterson Institute for International Economics in Washington. "It has the additional advantage that it will make U.S. firms complain more loudly that Trump's strategy is blocking their access to the China market."
Government ministers have said they will proceed with their own reform agenda, regardless of developments in the trade standoff with the U.S.
What Our Economist Says...
The timing of the cut would suggest the tariff tool is being used as a tactic in the trade war, taking into account both domestic and international considerations. Cuts across most trading partners, including the U.S., would signal an effort by China to ease tensions.

-- Chang Shu, Bloomberg Economics
"By further cutting import taxes, China is sending a message that it will keep opening up and reform no matter how the trade war goes. It's more like a commitment to both domestic and international audience. It's a gesture," said Tommy Xie, an economist at Oversea-Chinese Banking Corp Ltd in Singapore.
Neither China's Ministry of Finance nor the U.S. Trade Representative's office immediately responded to requests for comment on the matter.
China's most-favored nation average tariff stands at 9.8 percent. The MFN rule requires all countries to be treated equally unless specific exceptions are agreed, and the U.S. is also covered by MFN status.
China still has a higher average tariff rate than many developed economies. The U.S.' average applied MFN rate was 3.4 percent in 2017, and in general the Trump administration has accused China of being a protectionist economy. On Wednesday, Premier Li said that his government wouldn't devalue the currency in order to boost its exports amid the trade war.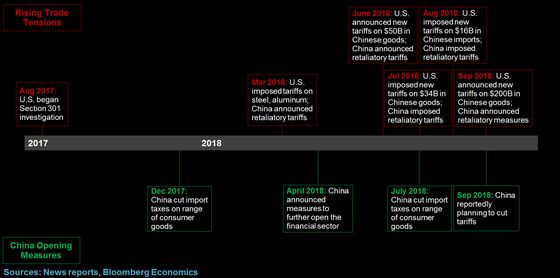 Cutting tariffs is just a start for China in addressing its unfair trading practices, said Dan DiMicco, the former Nucor Corp. chief executive officer who led Trump's trade team during the transition.
"I see this as a result of Trump's counter attack to China's trade war of the last 24 years," DiMicco said by phone. "Chinese tariffs have never been the crutch of the trade problem with them," he said, citing China's alleged theft of intellectual property and state-controls over the economy as deeper issues.
"The world gets that and won't be swayed by this tokenism," he said.