China Is Said to Back Private Investment in State Carmakers
(Bloomberg) -- China is considering encouraging state-owned carmakers to bring in private automakers as investors as it seeks to create an industrial champion to compete with global peers such as Toyota Motor Corp. and Volkswagen AG, according to people with direct knowledge of the matter.
A policy paper outlining the proposal is being studied by government departments, said the people, who asked not to be identified disclosing private discussions. The plans are preliminary and could change depending on feedback from different agencies and industry players, they said. The proposals don't specify what level of stake is permitted.
The National Development and Reform Commission, the government's key planning body, didn't immediately respond to a fax seeking comment.
China, which identified automobiles as one of the key industries in its efforts to beef up the country's manufacturing and innovation capabilities, is trying to build world-class automakers that can then compete with multi-national corporations. Bringing private investment into state-owned automakers such as China FAW Group Corp. and Dongfeng Motor Corp. would be in line with the so-called "mixed-ownership reform."
The government has already undertaken mixed-ownership reform in companies such as telecom operator China Unicom Hong Kong Ltd. and carrier China Eastern Airlines Corp. Besides central-government owned companies, provincial governments in China control automakers such as SAIC Motor Corp., BAIC Motor Corp. and Guangzhou Automobile Group Co.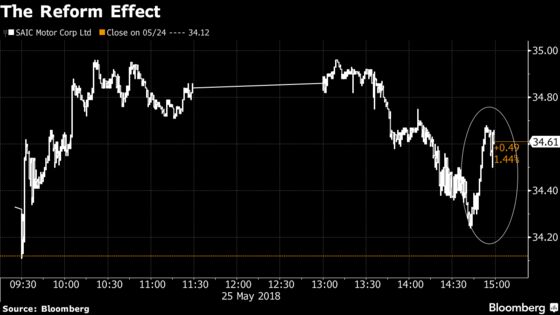 SAIC Corp., China's largest carmaker and controlled by the Shanghai government, jumped more than 1 percent from its intraday low, and traded at 34.62 yuan as of 3:01 p.m. in the city. That gave the company a market valuation of $63 billion.
The government is also said to deliberate:
Ease the norms governing investments in the auto industry and give more power to the provinces to supervise.
Ask electric-vehicle makers to register with provincial authorities instead of applying for production licenses directly to the central government.
The NDRC will set up specific criteria on whether a province is qualified for allowing in new electric carmakers or whether a meets requirements for registering a new electric carmaker.