China Home-Price Growth Accelerates in Property Market Boost
(Bloomberg) -- China's house-price growth accelerated in April as the central bank's credit easing gave the property market a much-needed lift out of the coronavirus shutdown.
New-home prices in 70 major cities, excluding state-subsidized housing, gained 0.42% in April, National Bureau of Statistics data released Monday showed. That's up from a 0.13% increase in March.
Prices in the secondary market, which is free from government intervention, rose 0.22% last month after edging up just 0.05% in March.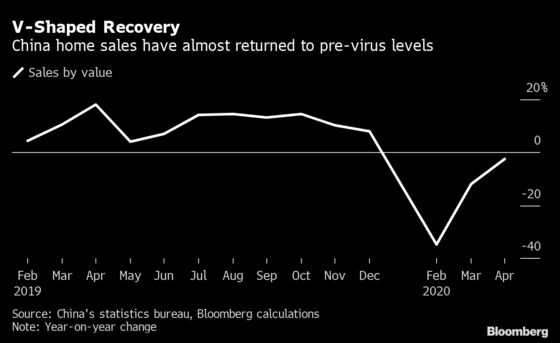 The gain shows China's property market is steadily recovering as the nation returns to business-as-usual after widespread shutdowns and travel restrictions hobbled the economy in the first quarter. Data released Friday showed sales had almost rebounded to year-earlier levels in April
The central bank has cut the cost of funding to banks, pledged liquidity to virus-hit industries and lowered requirements on banks' buffers to allow them to lend more. While most easing measures didn't target the property sector directly, buyers expect mortgage costs to decline further as the base rate it's pegged to has been reduced twice this year
"Relatively abundant credit is the biggest good news in the property market," said Yang Kewei, a research director at China Real Estate Information Corp. "Even if it's only slightly accommodative to real estate, it will motivate those buyers on the sidelines and increase their purchasing power."
The National People's Congress, starting Friday, is expected to lay out the government's property policy for the rest of the year. State-owned newspapers have reported that the economic damage caused by the virus won't change President Xi Jinping's vow that homes are for living in, not speculation -- a mantra aimed at stamping out buying frenzies and property bubbles.
An index of Chinese developers tracked by Bloomberg Intelligence rose 1.5%. China Evergrande Group gained as much as 1.6% in Hong Kong trading and China Vanke Co. added as much as 2.7%.
For more details on the price data, click here