China GDP Shows Worse Inequality, Higher Savings, Costly Housing
(Bloomberg) -- Data on Chinese household finances contained in Friday's GDP report suggest consumers aren't escaping an economic slowdown led by the industrial sector as the trade war with the U.S. escalates.
Growth in per-capita consumption moderated to 8.5 percent in the first three quarters of 2018 over the same period a year earlier, from 8.8 percent in the second quarter, according to the National Bureau of Statistics. The deceleration in consumption growth came despite a steady expansion of disposable income, which ticked up to 8.8 percent from 8.7 percent.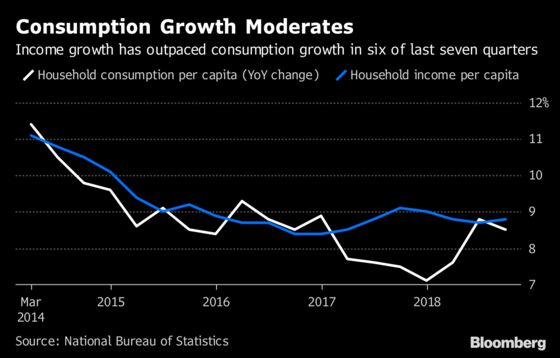 That left consumption growth below disposable income growth for the sixth time in the last seven quarters. The effect has been to push the household savings rate up to 31.8 percent on average over the last four quarters, the highest in five years of data.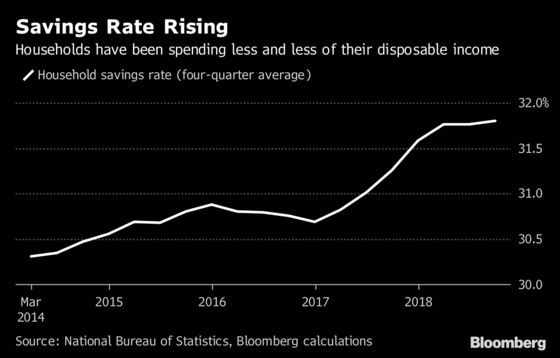 At the same time, housing is eating up an ever-growing share of consumption as it becomes more expensive. Housing's share of total consumption declined to 21.3 percent on a four-quarter average basis in the first three months of 2016 from 22 percent in the fourth quarter of 2013. But since then, it's shot up to 22.3 percent, also the highest in five years of data.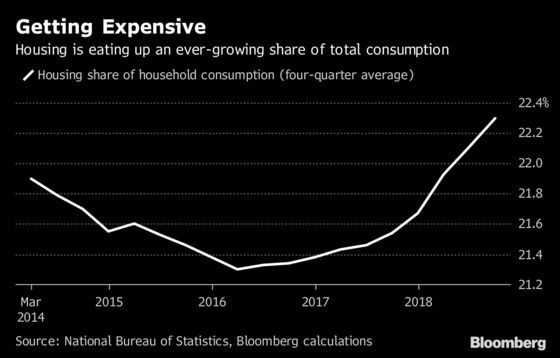 And while overall growth in disposable income remains steady, growth in median income is no longer keeping pace with the average. In the third quarter, median income growth was 8.7 percent, below average income growth for the 10th quarter in a row.
That implies widening income inequality. In 2014 and 2015, median income growth outpaced average income growth, leading to a rise in the ratio of median income to average income. But since then, the ratio has fallen in every quarter. Median income is now just below 86 percent of average income, down from a high of 87.6 percent at the end of 2015.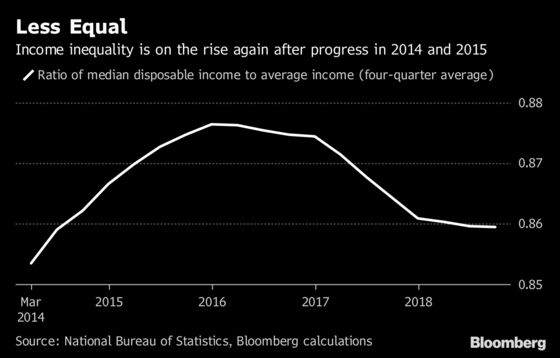 Other data published Friday by the NBS showed the nation's unemployment rate averaged 5 percent in the third quarter, up from 4.8 percent in the second quarter, while retail sales growth, after accounting for inflation, decelerated in September to 6.4 percent on a year-over-year basis, the slowest pace on record in seven years of data.
The data on household finances indicate problems in China's economy run deeper than deteriorating trade relations, which themselves may have yet to fully bite, given strong export performance in the third quarter.
"September's retail sales data suggest consumption remained subdued and we believe the weakness is likely to sustain amid a sluggish income growth outlook, due to the overall economic slowdown and a high household debt burden that built up quickly during the last round of the property boom," economists at Nomura International in Hong Kong led by Lu Ting wrote Friday in a report.