China Fund Ramps Up in ETFs, Eyes Taking Over H.K.'s Largest
(Bloomberg) -- CSOP Asset Management Ltd. is doubling down on its expansion in exchange traded funds in Hong Kong, even eyeing taking over the financial hub's biggest such vehicle as it goes up against global rivals.
The Hong Kong-based firm, looking to launch 10 more ETFs over the next one to two years, is keen to take the stewardship of the $12 billion Tracker Fund of Hong Kong as political tension between the U.S. and China has prompted scrutiny over its current manager, State Street Corp.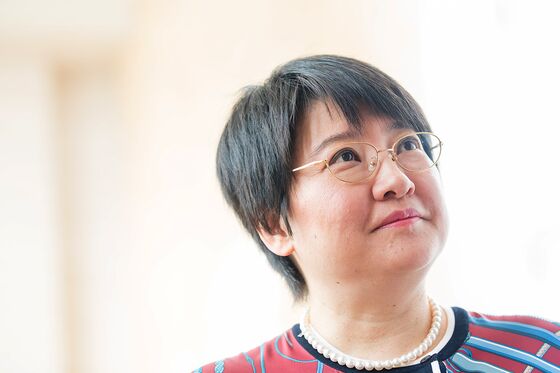 "If such an opportunity were to ever show up, we will definitely go for it," said Ding Chen, the chief executive officer of CSOP. "The city should have a high quality, low cost product that can track the Hang Seng Index reliably given the amount of capital from pension funds, retail investors placed in the fund."
Boston-based State Street was forced to back track earlier this year on decision to stop buying shares for the fund in Chinese firms hit by U.S. sanctions after being questioned by the Hong Kong Monetary Authority and criticism from a former official that it wasn't fit as a manager. The now defunct Apple Daily newspaper reported earlier that the government had commissioned an independent study to review firm's role.
A spokesperson at the HKMA said it has been in discussions and has followed up with State Street. "If the Supervisory Committee considers a change is necessary, we believe that they will evaluate and scrutinize different candidates carefully," the spokesperson said.
A spokesperson at State Street declined to comment.
The tracker ETF has seen $2.1 billion in outflows this year, according to data compiled by Bloomberg, as U.S. managers were forced to pare investments because of sanctions.
Hang Seng Investment Management Ltd. and CSOP, the city's second and third largest ETF providers after State Street, are deemed as the frontrunners to replace the U.S. fund if Hong Kong picks a new manager. CSOP has 80% of its $10 billion under management in 29 such passive products.
As an alternative to the tracker fund, the firm in May launched the CSOP Hang Seng Index ETF to offer a similar strategy to investors, Ding said. The new fund has attracted HK$162 million so far, given its low fee and small size it is still unprofitable, she said.
The volatile relations between the U.S. and China pose both challenges and opportunities for Chinese fund managers in the city, according to the 52-year-old fund manager.
"We don't have to sell off impacted Chinese stocks because of the sanctions but on the other hand U.S. investors and market markers can't touch our products for the same reason," she said. "From the perspective of a fund manager we surely want to see relations between the two countries sweeten up."
The firm's current product launching spree has been focused on delivering products to invest in technology firms and the Chinese market, a strategy that could come under pressure from a broadening crackdown by Beijing on its big technology companies. Authorities most recently ordered ride-hailing company Didi Global Inc. to remove its app from stores and last year derailed the initial public offering of Ant Group Co.
Ding said the pressure on technology shares is likely a "short-term" event and that it has also released several "thematic" ETFs to capture investment trends in several major categories.
CSOP was among the first to issue China A-shares leveraged and inverse products when Hong Kong Stock Exchange allowed it for first time in 2020. More than half its Hong Kong listed ETFs, which invest in everything from 5G to cloud computing, were launched in the past two years.
Ding, the then head of international business of CSOP's Shenzhen-based parent, moved to Hong Kong as part of a push to broaden its reach after financial crisis. She recalls how she was "reluctant" to make the move and led a team of five people, including a receptionist and an accountant back in 2010.
"I started by knocking on the doors of the banks one by one, but realized such distribution channels are clenched by big European and U.S. asset managers," she said. "ETFs are a short cut for late comers to gain a foothold."
Ding started the CSOP FTSE China A50 ETF after China in 2011 kicked off a program to allow qualified foreign institutional investors to buy onshore stocks and bonds with RMB. The fund was hot in demand because of the limited quota back then and a rally in the yuan.
The ETF remains CSOP's largest, with assets of HK$12.45 billion. It has delivered an annual return of 11.6% since late 2012.
It's best performer over the past three years is its CSOP SZE ChiNext ETF, which has delivered returns of 29% over that period. This month it has sunk 2.4% amid pressure on the Chinese technology sector.