China Factory Deflation Deepens Signaling Worsening Economic Slowdown
China's producer price index fell further into contraction, signaling a worsening economic slowdown that threatens to add deflationary pressures to the global economy.
Factory prices fell 0.8% in August from a year earlier, compared with a decline of 0.9% in the median estimate of economists in a Bloomberg survey
The consumer price index rose 2.8% year-on-year, faster than the median estimate of 2.7%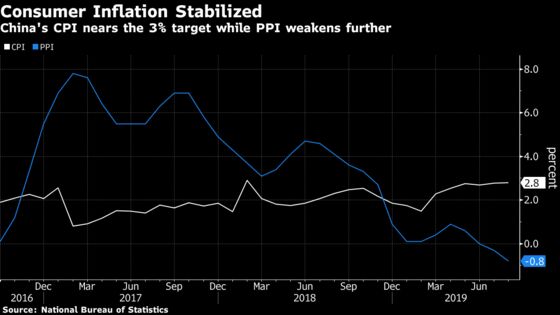 The contraction in factory prices hurts manufacturers' pricing power and threatens disinflation to the rest of the global economy via exports. The central bank announced fresh easing measures last week including cuts to the amount of cash banks' hold as reserves, but economists said more stimulus is needed to boost demand
"The confluence of positive CPI and negative PPI will be especially felt by both firms and workers in some of the export-intensive sectors such as machinery and IT equipment," said Victor Shih a professor at the University of California in San Diego who studies China's politics and finance. "At a time when the trade war lessens these firms' pricing power, they are also under pressure to pay their workers more due to increasing food prices. This will lead to financial difficulties among some firms facing these pressures."
What Bloomberg's Economists Say..

"Price pressures in China are weak overall, even with pockets of strength in food inflation on soaring pork prices. To us, the main risk is deflation, or at least dis-inflation -- not rising inflation. This spells more pressure on the People's Bank of China to ease monetary policy."
-- David Qu, Bloomberg Economics
For the full note click here
A gauge of inflation excluding food and energy slipped to 1.5%.