China Denies U.S. Warship a Port Call, Pushing Back at Trump
(Bloomberg) -- China refused a U.S. warship entry to Hong Kong next month, days after Washington sanctioned the Chinese military for buying Russian weapons.
The U.S. consulate in Hong Kong confirmed on Wednesday that China had denied a request for the port call by the U.S. Navy's amphibious assault ship the USS Wasp.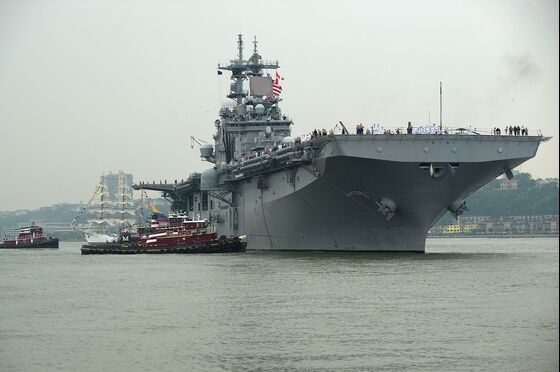 "The Chinese Government did not approve a request for a U.S. port visit to Hong Kong by the USS Wasp," Darragh Paradiso, a spokeswoman for the U.S. Consulate in Hong Kong, said in an email. "We have a long track record of successful port visits to Hong Kong, and we expect that will continue."
The vessel is part of a group based in Sasebo, Japan, and operating in the ­Indo-Pacific region.
Beijing's move came after the U.S. last Thursday penalized China's Equipment Development Department -- the agency that oversees the country's defense technology -- and its director Li Shangfu for allegedly engaging in the purchase of Russian combat aircraft and S-400 surface-to-air missiles, which it called a violation of American sanctions.
Ian Storey, a senior fellow at the ISEAS Yusof Ishak Institute in Singapore specializing in China-U.S. relations, said last week's sanctions were the "only reason" Beijing had denied the USS Wasp access to Hong Kong. "This is a tit-for-tat response, as China and Russia are really very annoyed about it," he said.
The U.S. State Department said its actions against Li and his department weren't intended to undermine the military capabilities or combat readiness of any country, but rather to impose costs on Russia in response to its interference in the U.S. election process.
It announced the moves as part of new efforts to enforce the sweeping Countering America's Adversaries Through Sanctions Act passed by Congress. The act targets Russia's defense and intelligence sectors, and was passed into law last year in response to Russian election interference, cyber attacks and aggression in Ukraine.
In addition, Beijing's top naval officer "has been recalled to China" and canceled a high-level meeting with his U.S. counterpart, Lieutenant Colonel Dave Eastburn, a Pentagon spokesman, said in an email.
China's military actions this week are a way of "showing displeasure without crossing the line into something more serious," said Collin Koh Swee Lean, a research fellow at the S. Rajaratnam School of International Studies in Singapore.
Koh said China has employed similar tactics in the past, citing Beijing's denial in 2016 of a U.S. carrier strike group's request for a Hong Kong port visit during a period of heightened tensions between the two countries in the disputed South China Sea.
But given China's attempts to resolve trade frictions with the Trump administration via conciliation, Koh said it was unlikely it would provoke the U.S. military into a more serious confrontation.
This week's actions shouldn't be seen as a stand-alone phenomena, he added.
"We need to look at the broader context of the ongoing trade war between the two countries," he said. "In China, they are debating how they can respond and there are hawks who say, 'we have to strike back.'"