China Consumer Inflation Accelerates, Factory Prices Slow
(Bloomberg) -- Chinese consumer inflation accelerated for a fourth month in September, with food prices jumping by the most since February, while the rise in households' non-food costs slowed.
The consumer price index rose 2.5 percent from a year earlier, according to data from the National Bureau of Statistics. That was the same as forecast in a Bloomberg survey of economists, and faster than the 2.3 percent report in August. The producer price index climbed 3.6 percent, compared with a 3.5 percent estimate and a 4.1 percent gain the previous month.
There has been increasing concern about the effect of rising prices in China since the summer, with floods and animal disease forcing food prices up as rents in major cities rise. The continued slowdown of factory prices will also hurt company profits, where growth is weaker.
"Supply-side reform, oil prices and the ongoing trade war will continue to drive prices higher in the last quarter and the first months in 2019," said Nie Wen, a Shanghai-based economist at Huabao Trust Co. "The property market used to mop up excessive liquidity when monetary policy was eased in the past. Now with the curbs on home purchases remaining tight, monetary policy easing will likely be another driver for higher prices."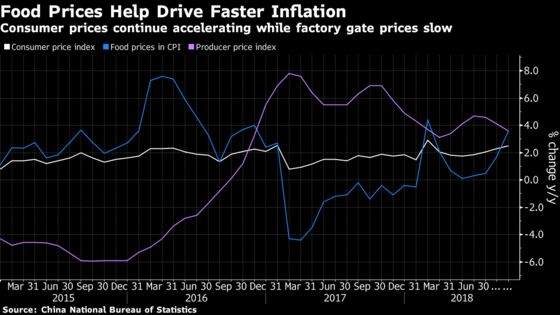 Gains in the consumer price index still remain well below the government's target ceiling of 3 percent.
Food prices accelerated by 3.6 percent from the same month last year. The latest data show prices of fresh vegetables were up by almost 15 percent, fresh fruit rose more than 10 percent, and eggs were 7.1 percent more expensive. Pork prices, which had been rising recently due to a pig illness, dropped 2.4 percent.
"Manufacturing companies in the middle stream are facing great pressure, as they face higher purchase prices but aren't able to pass on the hike to consumers, given retail sales have already shown sluggish growth," Nie said.
What our economist says
The pickup in consumer inflation mainly reflects a rise in food prices, with a notable slowdown in service prices, and "the picture of inflation being contained in 2H remains unchanged."

"Limited inflation should enable the authorities to continue to focus on promoting growth, further loosening policies on both the monetary and fiscal fronts."

-- Chang Shu, Bloomberg Economics