China's Commerce Minister Discusses U.S. Trade Dispute: Full Text
(Bloomberg) -- Chinese Commerce Minister Zhong Shan comments on the trade dispute with the U.S. in a statement sent to Bloomberg News on Oct. 7. The following are his comments in full.
On mutual benefit of trade between the U.S. and China:
We have noticed that some in the U.S. believe their country has been taken advantage of by China on trade, which has become the pretext behind the trade war started by the U.S. administration. Doing business requires mutual consent and buying or selling under coercion would not work. After so many years of business cooperation between China and the U.S., the bilateral trade in goods in 2017 grew by 233 times from the figure at the onset of their bilateral relations. If one side had been taken advantage of all the time, could such business relations have continued? Companies and consumers know best whether or not they have been taken advantage of.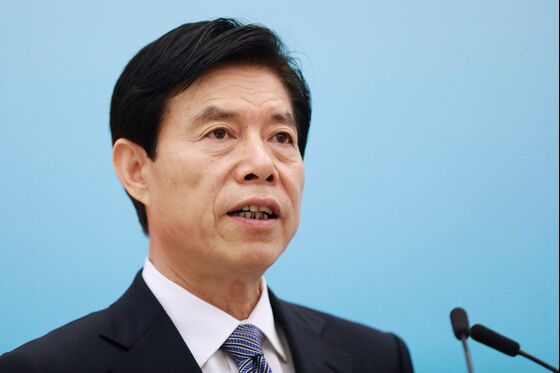 China and the U.S. are at different stages of development. The majority of Chinese industries are at the bottom of the "smiling curve", with meager profits. The U.S. is a world leader in technological strength and innovation capacity. Its companies have clear advantages in technologies, R&D and designing. By comparison, the U.S. companies are far more profitable than Chinese ones. According to research by relevant institutes, the average profit margin of U.S. companies in trade is over three times than that of Chinese ones.
Some say that China runs a huge trade surplus with the U.S., and therefore the U.S. is "losing." However, with complex causes, trade surplus and deficit are merely reflections of the gap between imports and exports, instead of real interests. In terms of the development stages, China had a trade deficit with the U.S. from 1979 when the two countries established diplomatic relations to 1992 and only began to run surplus starting from 1993. This is closely related to the development stages of the two countries and changes in their industrial competitiveness.
In terms of structure, China and the U.S. both have surplus and deficit in certain areas. China has surplus on labor-intensive products, while the U.S. has huge surplus on capital/technology-intensive products, agricultural produce and services.
In terms of statistics, the trade statistical approaches of the two countries are different. The members of the China-U.S. Working Group on Trade Statistics unanimously agree that the official U.S. figures of annual trade deficit with China is exaggerated by 20 percent, which is close to $100 billion. The deficit is not as big as it appears to be. In addition, near 60 percent of China's surplus with the U.S. comes from processing trade, for which many parts and raw materials come from other countries, the U.S. included. With these factors excluded, the real deficit will be much smaller.
In terms of policies, trade surplus or deficit is also related to the trade policies of the U.S.. The U.S. would not sell certain products that China wants to buy. Relevant institute in the U.S. suggests that if export control on high-tech exports to China were relaxed, U.S. trade deficit with China would be reduced by about 35 percent.
Trade is mutually-beneficial in general. A balanced trade requires the joint efforts of both sides. Chinese President Xi Jinping said that cooperation is the only correct choice for China and the U.S., and that only mutual benefit can lead to a better future.
On countermeasures to U.S. tariffs:
Some people in the U.S. think that as China exports more to the United States than the other way around, China will come to its wit's end when its $200 billion exports are subject to additional U.S. tariffs. After four decades of development, China-U.S. trade in goods and services reached $700 billion dollars, two-way investment exceeded $230 billion dollars, and annual sales of U.S. companies in China hit $700 billion dollars. The two countries are so closely intertwined and interdependent in trade and economic cooperation that it is far beyond imagination.
The tariff measures adopted by the U.S. based on its Section 301 investigation have violated the WTO rules. People in both countries are opposed to the trade war as it hurts China as well as the United States. For example, more than 90 percent U.S. representatives voiced their strong opposition in the public hearing on $200 billion tariffs.
There is a view in the U.S. that so long as the U.S. keeps increasing tariffs, China will back down. They don't know history and culture of China. This unyielding nation suffered foreign bullying for many times in history, but never succumbed to it even in most difficult conditions. China doesn't want a trade war, but would rise up to it should it break out. We will resolutely safeguard the interests of the country and the people and resolutely uphold free trade and the multilateral trading system. The U.S. should not underestimate China's resolve and will.
On the economic impact of a trade war:
The tariffs imposed by the U.S. will have some negative influence on the Chinese economy. There is no winner in a trade war. The trade war will affect China, injure the U.S., and hurt the global economy. China represents just one link in the global industrial chain and supply chain. The finished products China exports include a large amount of intermediary products and components imported from other countries. Victims of the U.S.'s tariff on Chinese products include those multinational corporations cooperating with China, many of which are U.S. companies. Literally the U.S. is attacking on its own export. The latest survey of the American Chamber of Commerce in China shows that over 30 percent of U.S. businesses operating in China say they will no longer rely on the U.S. for sourcing as a result of the tariffs imposed.
At the end of the day, tariffs are to be borne by consumers. Research of the U.S. China Business Council indicates that products imported from China help each American household save $850 every year. After the tariffs are imposed, the Chinese products entering the U.S. market will become fewer and more expensive. That will affect American consumer "from head to foot" as they will no longer have access to the cost-effective Chinese products.
Some people think that the Chinese economy is doing poorly. Actually, the Chinese economy has been going stable overall, maintaining a momentum of steady progress. With 6.8 percent in year-on-year GDP growth in the first half of this year, China is among the fastest growing major economies around the world. There is no second country with more than $10 trillion in GDP that can keep growing at over 6.5 percent. At the same time, as its economic structure improves continuously, China has made firm headway in quality development. We have the confidence and capability to maintain steady and healthy economic development in the long term.
On intellectual property theft and forced technology transfers:
Since its reform and opening up, China has seen its economy booming and science and technology advancing swiftly, which is interpreted differently worldwide. One view has it that China achieves development by technology theft and forced technology transfer. I want to emphasize that China's laws and regulations do not contain any requirement for technology transfer and that companies' purchases of technologies and patents are pure market behavior. China's economic development and science and technological progress are owed to reform and opening up and endeavors of the Chinese people.
Since the founding of the PRC, especially the inception of reform and opening up, generations of scientific workers have overcome tremendous difficulties to boost the rapid development of modern science and technology in China. In 2017, China's invention patent ownership reached 1.356 million, ranking top in the world. China has developed world-class technologies in quantum communications, supercomputer, and bridge building, among others, with successive technology breakthroughs, for which we have relied on our own diligence and intelligence. Meanwhile, we encourage international cooperation to advance technology development with the rest of the world.
In the past 40 years, we have pressed ahead with reform and opening up, while millions of FIEs have entered Chinese market eyeing the huge market with nearly 1.4 billion people and trying to share in the big pie. Technology transfers between businesses, based on equal-footed consultation and independent decision-making, are purely business choices out of commercial interests. Now the U.S. is reaping the dividends of the Chinese market while labeling China with "forced technology transfer". This is not only untrue, but also unfair.
China attaches great importance to intellectual property protection and has put in place a relatively complete legal system around intellectual property. We have set up three IP courts in Beijing, Shanghai, and Guangzhou, intensified enforcement, and scored progress that is evident to all. Former WIPO Director-General Arpad Bogsch sings high praise for China's IP legal framework, noting that China's accomplishments are 'unmatched in the history of intellectual property protection'. In 2017, China's courts tried 230,000 IP infringement cases and sentenced 28,000 criminals. For China, IP protection is necessary not only for the legitimate interests of business of all kinds, including FIEs, but also for our own development. IP protection knows no end.
On China further opening its markets:
Opening-up is China's fundamental state policy. President Xi Jinping once pointed out that openness leads to progress while seclusion leaves one behind and China's door of opening up will not be closed, it will only open even wider. Since 1978, we have been committed to reform and opening-up and pursued development with our door wide open. Opening-up has brought about major transformation and achievements. No matter how the global situation changes in the future, China's commitment to and resolve in further opening-up will never change.
Since the beginning of this year, the Chinese government has announced a series of measures to expand opening-up, including lifting foreign equity caps in the financial, automobile and shipping sectors, among others, and lowering tariffs on some imported goods. These measures are now being implemented one by one. For instance, since July 30, foreign equity caps in securities, fund, futures and life insurance companies have been lifted to 51 percent and such caps will be completely removed in three years. Foreign equity caps on special-purpose vehicles and new energy vehicles have been removed. The first China International Import Expo will be held in Shanghai this November. China has also decided to build the island of Hainan into a pilot free trade zone and to explore the development of a free trade port in Hainan.
Going forward China will unswervingly open up at a preset pace. China's opening-up is not only conducive to the development and progress of her own, but also to global economic prosperity and stability and the building of a community of a shared future for mankind. China is open to the rest of the world and ready to share the fruits of its expanded openness and the opportunities brought about by development.