China Central Bank Needs Regular Media Briefings, IMF Paper Says
(Bloomberg) -- China's central bank would benefit from greater transparency including regular press briefings and timely release of information, according to researchers at the International Monetary Fund.
Their paper -- which doesn't necessarily reflect the IMF's official view -- looked at moves toward greater transparency by the People's Bank of China as its stewardship of the $12 trillion economy increasingly holds the potential to rattle global markets. It concluded that the PBOC should:
Make information available in a timely fashion, in one place, and in English
Expand its economic forecasting, and publish those projections regularly
Hold regular press conferences
"Financial markets are eager for any signal of monetary policy from the PBOC," authors Michael McMahon, Alfred Schipke and Xiang Li wrote. "Communication is still evolving toward the level of other major economies."
While the U.S. Federal Reserve, European Central Bank and Bank of England publish schedules of their policy meetings and try to guide expectations of their policy paths, the PBOC has a track record of making unexpected announcements, often outside market hours. It has only one scheduled conference a year, during the meeting of the national legislature in March.
The IMF researchers acknowledged that the central bank's communications are constrained by its lack of independence, and that speeches and interviews tend to "focus on explanations rather than guiding expectations."
Still, it has increasingly used quarterly reports, press releases, speeches, conferences and notices of open market operations, as well as being active on social media. On Weibo, it has more than 3 million followers, far surpassing the Fed, ECB and BOE's followers on Twitter combined.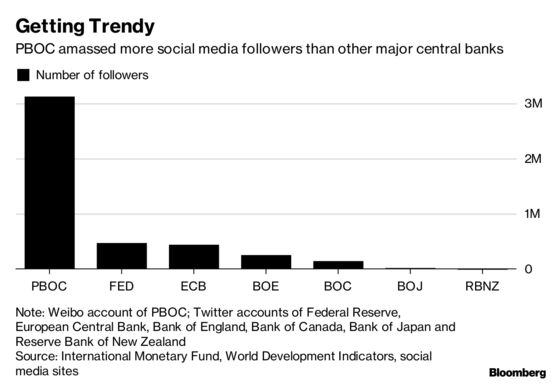 More information in English will make China's capital markets more attractive, according to the paper. Expanding forecasting capacity will improve the predictability of monetary policy, and regular briefings can allow markets to better interpret decisions and reduce uncertainties.
"Better communication will become paramount to improving the effectiveness of monetary policy, reducing excessive volatility, and fostering financial-sector stability," the researchers said. "Failure to address existing institutional shortcomings may limit the benefits of liberalization and slow economic development."