China Brings Back Climate Envoy With Record of Deals With U.S.
(Bloomberg) -- China's re-appointment of veteran climate negotiator Xie Zhenhua -- a key architect of the Paris Agreement and the country's plan to end carbon emissions by 2060 -- signaled that Beijing is looking to engage the Biden administration on the issue.
Xie's return as special envoy for climate affairs after a two-year hiatus was announced by Vice Foreign Minister Luo Zhaohui during an environmental seminar Tuesday. While Luo did not elaborate on Xie's portfolio, the title suggests he will lead international climate negotiations, as well as bilateral talks on the topic.
The norm-breaking appointment -- since Xi, 71, has exceeded the Communist Party's retirement age for officials of his rank -- shows China sees climate change as an area of cooperation with U.S. President Joe Biden. The new administration has highlighted the issue as a place the two sides can work together despite an escalating series of disputes during former President Donald Trump's term.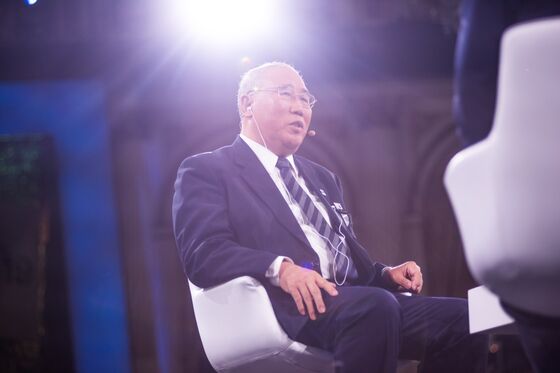 "This is clearly a tailored move toward the U.S., an effort to ensure the diplomatic channels are there. With his experience and contacts, Xie's appointment will at least help reduce transactional cost in China's climate diplomacy, said Li Shuo, senior global policy adviser at Greenpeace in Beijing. "The only question is whether political appetite for substantive move is still there.
Xie previously worked with then-U.S. Secretary of State John Kerry, who Biden has tapped as his climate czar, on efforts to forge the landmark 2015 climate deal in Paris. He has also built up strong working relationship with people on Kerry's team, including Jonathan Pershing and Sue Biniaz, Li said.
China has managed to preserve ties with the U.S. on climate issues despite Trump's withdrawal from the deal in 2017, Xie said in an interview with Bloomberg as head of Tsinghua University's Institute of Climate Change and Sustainable Development in October.
"In fact, we have never lost contact with state governments, universities and enterprises in the U.S., we have been maintaining effective cooperation," Xie said. "Regardless of domestic situation in the U.S., we are always willing to carry out cooperation."
For more on China's climate policy:
China Hasn't Given Up on U.S. in Fight Against Climate Change
China Oil Major Won't Let Climate Plans Disrupt Raising Output
While Kerry said earlier that he hoped the U.S. could "work with China," he also took a swipe at President Xi Jinping's climate plan. "China has said they're going to do something by 2060, but we don't have a clue really yet how they're going to get there," Kerry told a World Economic Forum event last week, pointing to the country's continued support of coal-fired plants.
Chinese diplomats have also warned that cooperation between Beijing and Washington would depend on the Biden administration's stance on other China-related issues. Top Chinese diplomat Yang Jiechi warned Biden earlier this week that the affairs of Hong Kong, Tibet and Xinjiang were a "red line that should not be crossed."
Xie has said he's personally committed to the fight against climate change after seeing the devastating impact of global warming in less developed countries. He was behind Xi's surprise announcement in September to reach carbon neutrality by 2060. The Tsinghua institute he led had "made policy proposals" to Chinese leaders that were eventually adopted, he said in an interview.
Xie's career started in 1982 when he joined then-State Administration on Environmental Protection, becoming director in 1993. From 2007 to 2015, Xie oversaw China's climate policy making as vice director of the powerful National Development and Reform Commission.
Defying retirement rules for ministerial level officials, Xie continued to lead China's climate talks until 2019 as special envoy. He was appointed as special adviser to the environmental ministry last year.