China Boosts Soybean Import Outlook as U.S. Trade Optimism Grows
(Bloomberg) -- China is boosting its estimate for soybean imports as optimism grows Washington and Beijing are progressing toward a deal as the two nations meet to resolve a trade dispute.
Purchases by the world's biggest consumer of soybeans for the year ending September will likely be 87 million tons, up 3 million tons from the previous estimate last month, according to the official China National Grain and Oils Information Center. The Asian nation may buy 2 million tons more of American soybeans after importing 3 million tons in December, the center said.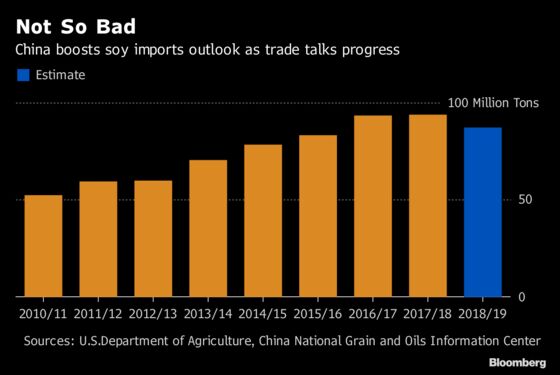 The increased outlook will likely bring cheer to U.S. farmers who were roiled by the heightened trade tensions as exports to China all but stopped, and may add to hopes President Xi Jinping and counterpart Donald Trump are closer to resolving the impasse. Signs are already emerging that China is cooperating, with the country buying more American soybean supplies this week.
Mid-level U.S. and Chinese officials in Beijing extended discussions for a third day, adding to hopes fueled by tweets from Trump that the two sides are making progress toward an agreement. Trump is increasingly eager to strike a deal with China soon, according to people familiar with internal White House deliberations.
The China National Grain and Oils Information Center, or CNGOIC, also provided the following estimate for soybeans, soymeal, corn and barley:
China's 2018/19 soybean output was estimated at 16 million tons, the highest since 2006.
China's 2018/19 soymeal demand may drop 4.7 percent on the year due to the widespread outbreak of African swine fever, the first decline since 2006/07.

Soymeal consumption for 2018/19 was estimated at 66.8 million tons versus 70.1 million tons in 2017/18.

China's corn consumption growth by its animal feed industry in 2018/19 may slow as farmers are likely to reduce hog herds amid the widespread outbreak of the deadly African swine fever.

Consumption estimated at 190 million tons, 5m tons lower versus its previous forecast.
Outbreaks of the disease may encourage middle-and-small farms to reduce restocking and keep hog herds low.
Consumption by the refining industry was estimated at 78 million tons, unchanged from previous estimates.

China's probe over Australian barley may reduce imports significantly and increase domestic corn usage from the feed industry.

Barley imports were estimated at 4.5 million tons, 3.64 million tons lower versus 2017/18.