China Bets Vast Supply Chain Can Swallow Trump's Tariff Pain
(Bloomberg) -- China is banking on its dominance of global supply chains to help it ride out the pain from Donald Trump's trade war.
Consider the case of pallet jacks made by Staxx Material Handling Equipment Co. from Ningbo on the nation's east coast. Chinese production dominates the lower end of the market with a big price edge over western competitors, says export director Thomas Wang, speaking at this month's Canton Fair in Guangzhou.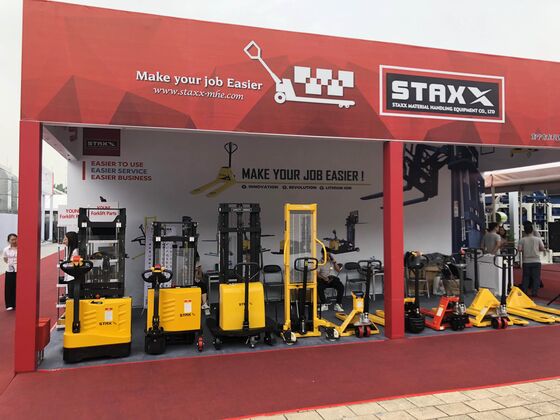 American buyers "don't have good suppliers to replace China," says Wang, who adds that sales to the U.S. account for about a fifth of the company's production. "All the tariffs will be relayed to end users."
In addition, the rapidly growing domestic market increasingly acts as an anchor for its global supply chain. That, and a low dependence on the U.S. market, suggests Trump's $250 billion in tariffs on shipments can't quickly upend it. Exports to the U.S account for less than a fifth of China's total and Deutsche Bank AG estimates that overall, China's industrial output has only a five percent exposure to the U.S. market.
"Chinese production serving the rest of the world is five times more important than the supply chain serving the U.S," says Zhang Zhiwei, chief China economist at Deutsche Bank in Hong Kong. "The key issue is whether the U.S. tariffs drive out supply chains from China that serve other countries. History suggests they will not."
Read More Trade War Coverage..
A case in recent history Zhang cites is anti-dumping duties imposed by the U.S. on large residential washing machines early in 2017. China's exports to the U.S. plunged as a result but the impact on washing machine production overall was negligible because of shipments to other foreign markets and China's consumers, says Zhang.
Trump imposed 10 percent tariffs on a further $200 billion of Chinese products last month, and said those could rise to 25 percent from January. He'd already imposed 25 percent tariffs on $50 billion worth of goods. China has retaliated and Trump's threatened to levy duties on all China's exports.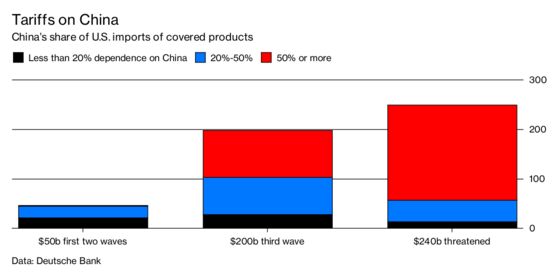 More than a dozen makers of products from furniture to mobile phones interviewed recently in China's industrial heartland in the Pearl River Delta in southern Guangdong province said they'd face short-term pain from falling U.S. orders when tariffs rise to 25 percent. They also were confident that this would be a hiccup with other foreign markets and Chinese consumers quickly taking up the slack.
The region serves as both China's traditional hub for manufacturing everything for export from toys to chemicals, as well as a higher-tech location that now hosts the headquarters of companies like Tencent Holdings Ltd. The Delta epitomizes the global nature of modern supply chains, as the final assembly center for many consumer goods which have inputs from elsewhere, including electronics.
Shenzhen Garlant Technology Development Co., which makes mobile phones and accessories including chargers, cables, speakers and headphones, does about a fifth of its $150 million in annual sales with the U.S., says founder Andy Yu.
Western competitors sell their products at much higher prices and competitors from Southeast Asia and Latin America lag far behind in technology and management capabilities, says Yu. China is the dominant supplier globally and it's unrealistic to think it can be displaced, he says.
With U.S. tariffs on $200 billion of Chinese products set to rise to 25 percent in January from 10 percent, some U.S. companies say they're considering shifting purchases away from China to markets including Mexico, India and even the U.S. itself.
But despite the imminent onset of 25 percent tariffs on all its products, Wang at Staxx says that isn't so much compared with its large price advantage over competitors, adding that the U.S. market is still worth pursuing.
China still has a large cost advantage due to economies of scale and is also well established in parts of the supply chain that need hard-to-get certification, including for food, drugs, medical devices and some transportation equipment, says Mary Lovely, a nonresident senior fellow at the Peterson Institute for International Economics in Washington.
"Damage from the U.S. tariffs is bearable for China," said Lovely. "These tariffs are unilateral and China still will supply the rest of the world."