Bears Beware, the Yuan Will Weaken on China's Terms
(Bloomberg Opinion) -- When the cat's away, the mice will play. 
During the Golden Week holiday that just ended, the offshore yuan weakened past the psychologically important 6.90 level to the dollar. Emerging-markets currencies, taking a cue from China, are suffering a 5.2 percent blow this year.
There are many reasons to dislike the yuan. China's economy is already showing the strain of an escalating trade war with the U.S. – in September, manufacturing activity fell to the lowest level in 16 months. Why invest in a currency that represents dwindling economic returns?
On Sunday, the People's Bank of China gave yuan bears another reason to cheer. For the fourth time this year, the central bank cut the amount of cash lenders must hold as reserves, promising to unleash 1.2 trillion yuan ($174 billion). While the Federal Reserve is on schedule to raise rates four times this year, on paper, the PBOC is walking the other way. Last week, a plunge in U.S. Treasuries brought the yield gap between Chinese and U.S. 10-year bonds to the smallest since April 2011.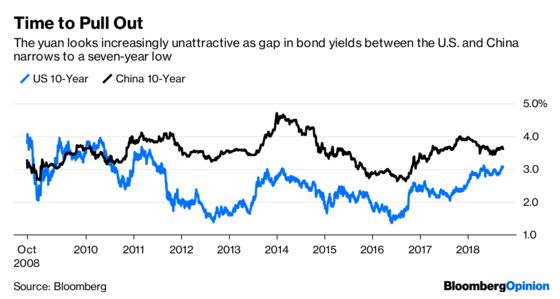 And we are seeing tentative signs of capital outflows again. China's foreign-exchange reserves have fallen for two straight months as the yuan slipped 3.5 percent this year. Are Beijing's $3 trillion of foreign reserves enough to defend currency if more of the nation's billion-plus people start to exchange their yuan for the $50,000 annual quota? 
Yuan bears beware, however. China has a strong incentive to devalue the currency, but only on its terms. Stealth or surprise moves are the Beijing way. 
First, it's too early to conclude that the PBOC is actually easing. The latest reserve-ratio cuts remain liquidity-neutral, as the central bank painstakingly pointed out in a second release to accompany its most recent policy change. And it's unclear how much new money will come into the system. In October alone, more than 600 billion yuan of the central bank's outstanding lending facilities will be due.
Unless the central bank buttresses its loose stance with open-market operations, reserve-ratio cuts are meaningless.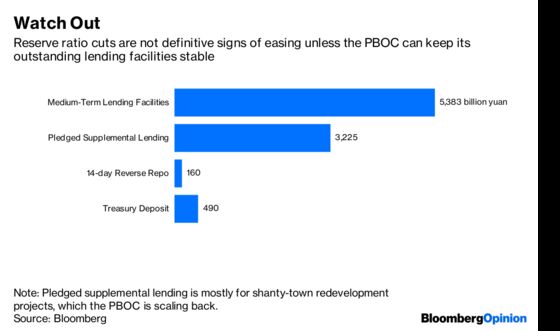 Recent history is a guide: Since China's surprise devaluation in August 2015, the sharpest bouts of weakness have happened when foreign reserves were largely stable – notably the approximately 10 percent drop between early April and mid-August.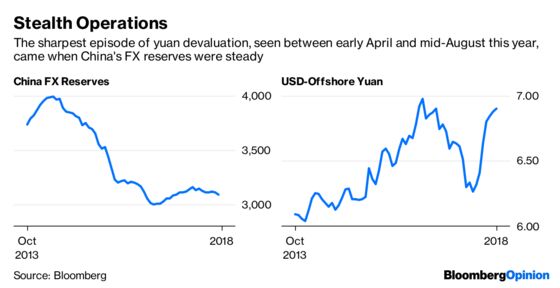 Shorting the yuan can turn expensive quickly. Last week, when traders were on holiday, the one-month implied yield for the offshore yuan shot above 7 percent, the highest level in more than a year.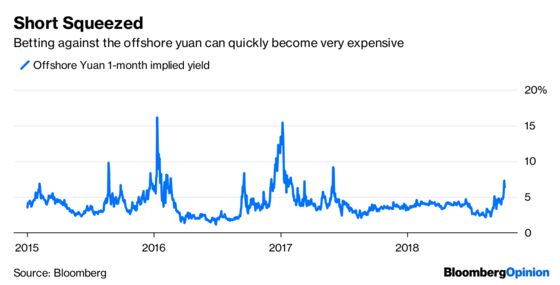 Meanwhile, the Ministry of Finance is coming to Hong Kong to sell dollar bonds again – on Oct. 11 – just about one year after its vanity issue that priced A+-rated China close to AAA-rated Germany. Do yuan bears seriously believe Beijing will allow the currency to tumble while its government is mounting a roadshow?
And don't forget a new tool the PBOC can use to battle the bears in Hong Kong. On Sept. 20, the Hong Kong Monetary Authority, the city's de facto central bank, agreed to allow its Beijing counterpart to issue yuan-denominated bills in the offshore market. Higher offshore yuan yields could deter speculation.
As I argued in early April, when the yuan was just starting to weaken, China has a strong incentive to weaponize its currency in the face of Fed rate increases. That incentive remains. But Beijing will only do this on its own terms. Beware of a short squeeze. 
This column does not necessarily reflect the opinion of the editorial board or Bloomberg LP and its owners.
Shuli Ren is a Bloomberg Opinion columnist covering Asian markets. She previously wrote on markets for Barron's, following a career as an investment banker, and is a CFA charterholder.