Auto Sales Risk Slowdown as Trump's Tariffs Imperil Top Imports
(Bloomberg) -- With President Donald Trump's auto tariffs looming, General Motors Co., Nissan Motor Co. and Fiat Chrysler Automobiles NV are among those taking advantage of top-selling imports while they still can.
The three boasted some of the top-selling or fastest-growing imported vehicles in the U.S. in the first half, which turned out better than many analysts expected. Deliveries have jumped 11 percent for GM's Chevrolet Silverado and 10 percent for Nissan's Rogue this year through June, while Fiat Chrysler has more than tripled Jeep Compass sales. All of them are sourced in part or entirely from plants in Mexico, Canada, Japan or the U.K.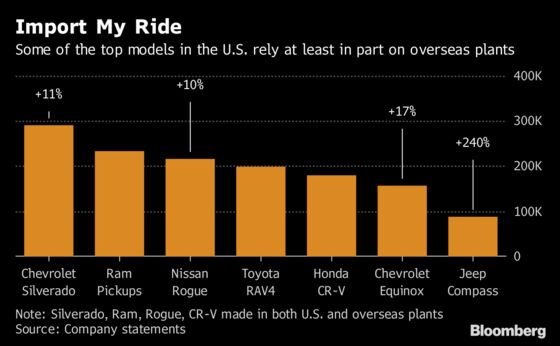 Potential tariffs on models shipped from overseas -- and on imported parts that would drive up the price of American-assembled vehicles like Ford's F-150 pickup and Toyota's Camry sedan -- risk applying the brakes to U.S. auto demand that's been resilient this year. All major automakers that have reported deliveries for June have beaten or been in line with analysts' average estimates.
"We're in a good, old-fashioned bull market right now," said Charlie Chesbrough, senior economist for Cox Automotive, which raised its projection for full-year sales by about 100,000 vehicles, to 16.8 million. "There's been quite a bit of concern regarding trade and tariffs, but car buyers don't seem to be worried yet."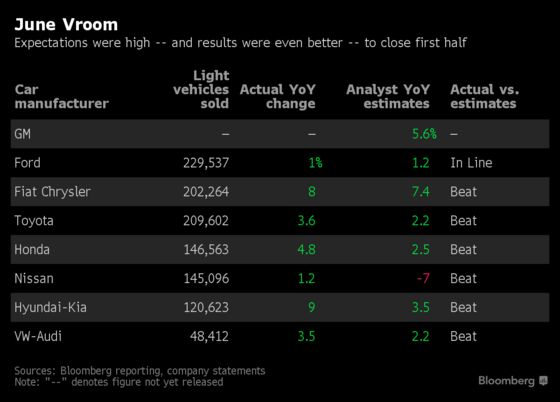 Since almost all big automakers beating projections, the industry probably exceeded analysts expectations for an annualized rate of 17 million sales in June, compared with 16.7 a year earlier. Joseph Spak, an analyst at RBC Capital Markets, estimated a 17.4 million pace in a note to clients Tuesday, which would be the fastest since March.
GM said industry sales ran at about a 17.2 million unit annualized rate in both the second quarter and for first half, in line with the total for 2017. Most analysts were expecting deliveries would dip below 17 million this year.
The investigation that the U.S. Commerce Department started in May could compromise the industry's momentum. Trump asked the agency to look into the national security implications of auto imports, and his administration is said to be considering tariffs of as much as 25 percent. Car and parts companies warn that this would result in doom and gloom.
"Tariffs are going to be bad news for the auto industry," Chesbrough said. "There will be a little time for the market to adjust, but we would see prices rise quickly across the board. A full-blown trade war could knock the economy into a recession."
Tariff concerns have dragged on automakers' shares, which continued their declined despite the upbeat sales results Tuesday. GM closed down 1.3 percent while Fiat Chrysler and Ford Motor Co. both dropped 1 percent.
Even automakers that are in a relatively strong position are opposed to import tariffs. Ford, whose domestic factories will assemble almost 80 percent of the vehicles it sells in the U.S. this year, is "not in favor" of the Trump administration's investigation, Chairman Bill Ford said last month.
Ford's sales rose 1 percent in June, as solid early demand for the India-built EcoSport crossover helped offset another weak showing for cars like the Focus and Fusion. Unlike GM and Fiat Chrysler, Ford assembles all of its lucrative full-size pickups at home.
"Our most profitable vehicles are all built in the U.S.," Mark LaNeve, Ford's U.S. sales chief, said on a conference call. "That provides us with some level of protection."
Nissan uses its U.S. factories to build more than half the vehicles it sells in the U.S., according to division vice president Billy Hayes. But some of the company's hottest new vehicles come from outside the U.S., including the compact Kicks and Rogue Sport crossovers built in Mexico and the U.K., respectively.
For now, Nissan hasn't made any decisions about altering its manufacturing footprint. "Until we see what changes are going to be implemented, we'll conduct our business as usual," Hayes said.
Nissan reports results for the Rogue Sport and the regular Rogue as one model line. Combined sales for the two exceeded last year's top SUV, Toyota Motor Corp.'s RAV4, by almost 17,000 units in the first half of 2018.
Toyota's top SUV is more vulnerable to imported vehicle risk than Rogue. Nissan builds its model in Tennessee and supplements that supply with output from factories in other countries. The RAV4, on the other hand, is entirely absent from Toyota's U.S. plants -- the company sources the model from Japan and Canada.
"We're very concerned," said Andrew Gilleland, vice president of sales operations for the Toyota brand. "We feel the tariff would have a negative impact on all car brands across the industry. But the biggest loser would be the consumer, who would have fewer choices and face higher costs."