Cheap U.S. Corn Lures Chinese Buyers Seeking American Grain
(Bloomberg) -- Cheap American corn is attracting prospective Chinese purchasers again less than a week after the Asian nation picked up the most supplies in almost seven years.
Chinese buyers are inquiring about prices for American corn as well as sorghum, according to people familiar with the matter, who asked not to be identified because the information is private. The move comes as crashing U.S. prices make the yellow grain used in biofuel and animal feed more attractive, while the Chinese domestic market is seen staying strong.
American corn prices have tumbled more than 10% from this month's high as the spread of the coronavirus leaves roads empty, hitting gasoline demand. That adds to an oil price war between giants Saudi Arabia and Russia that sent the crude market into total meltdown.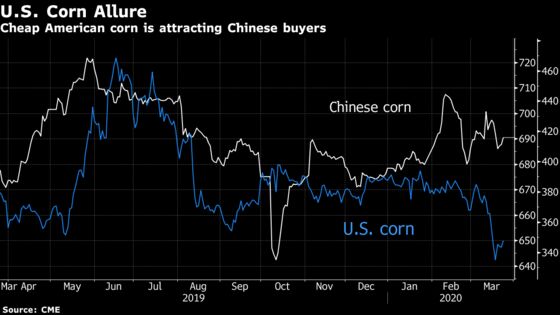 China has been more active in the American market recently, and intends to boost grain purchases as the price difference between supplies there and in the U.S. has increased, the people said. Beijing is also seeking to meet its commitments to buy $36.5 billion in American agriculture products under the phase one deal with Washington.
Any purchases of American corn would come just after Chinese buyers picked up 756,000 metric tons, the most since July 12, 2003, according to data from the U.S. Department of Agriculture. The Asian nation has been buying sorghum more regularly since the phase one deal entered into force in mid-February.
Margins to produce corn-based ethanol are currently negative and many plants are shutting down as a result. Top U.S. ethanol maker POET has "temporarily ceased corn purchases at a number of locations" and is evaluating production levels. Andersons Inc. plans to temporarily shut its Kansas joint venture plant in the coming days, while Husker Ag idled one of its two ethanol plants in Plainview, Nebraska, for a "couple of weeks."
Analysts in the Asian nation agree there will be more buying. "China's purchases of U.S. corn and wheat, among other products, will continue as the drop in prices offers a very good opportunity," said Li Qiang, chief analyst with Shanghai JC Intelligence Co. U.S. feed grain imports could reach 800,000 tons a month going forward, said Li.
Corn futures on the Dalian Commodity Exchange have climbed in the past month as roads blocked because of the coronavirus limit flows from the corn belt in the northeast to the south, the major consuming area. The spread for corn in Dalian over Chicago has jumped to the highest since 2016.
Domestic corn prices will probably stay strong as demand, particularly from hog breeding, is better than anticipated, said Meng Jinhui, a senior analyst with Shengda Futures. "The huge profit from raising hogs, together with government support measures, means hog breeding is recovering faster than expected."