Central London Defies Worst U.K. Housing Market Since 2010
(Bloomberg) -- Sellers are betting that Central London can defy the worst U.K. housing market for any October in eight years.
Tentative signs of a rebound in some of the capital's most expensive districts saw asking prices for homes in inner London climb 2.4 percent from September to an average 625,064 pounds ($824,000), according to property website Rightmove. In Britain as a whole, values rose 1 percent, the smallest gain for the month since 2010.
The increase in part reflects the seasonal pickup in the market after the summer, though there's still plenty to be worried about. A report from the Royal Institution of Chartered Surveyors last week found a subdued market and significant caution among potential buyers.
More broadly, demand for homes is weakening after a three-decade boom pushed them to levels that are unaffordable for most. Tax changes affecting landlords and economic uncertainty surrounding the nation's future relationship with the European Union have also taken a toll, especially in London.
"This year has a more subdued narrative," said Miles Shipside, director at Rightmove.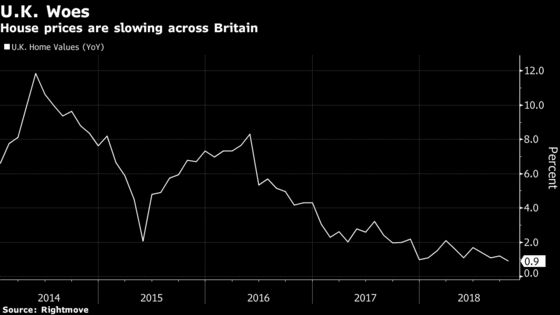 On an annual basis, U.K. home values increased 0.9 percent to an average 307,245 pounds, Rightmove said Monday. London was down 1.1 percent.
Rightmove's monthly index, which isn't seasonally adjusted, consisted of asking prices of more than 110,000 homes representing roughly 90 percent of the U.K. market. The properties were put on sale between Sept. 9 and Oct. 6.