BOE to Release Its Long-Awaited Brexit Analysis Next Week
(Bloomberg) -- The Bank of England will give U.K. lawmakers its assessment of what Brexit could do to the financial system and broader economy at the end of November.
The report to the Treasury Committee on Nov. 29 will offer what's intended to be an independent assessment of Prime Minister Theresa May's proposed European Union Withdrawal Agreement. It could prove contentious, given the view among some pro-Brexit lawmakers that the BOE, and Governor Mark Carney, are biased in favor of EU membership.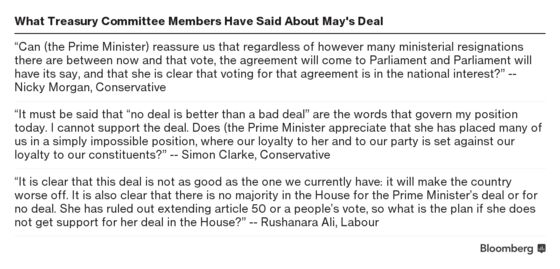 May's proposal has already led to resignations within the government and threatened her position as premier. The BOE report will feed into the debate among legislators before they vote on the agreement.
The BOE said its analysis will look at "how the EU Withdrawal Agreement will affect the Bank's ability to deliver its statutory remits for monetary and financial stability, including in a 'no deal, no transition' scenario."
Carney, whose interventions in the Brexit debate over the past three years have enraged pro-Leave politicians, appears before Parliament's Treasury Committee on Tuesday. He'll be joined by fellow interest-rate setters Jon Cunliffe, Andy Haldane and Michael Saunders.
Follow the testimony by the Bank of England Governor on our live blog here
While they're ostensibly there to discuss the bank's recent economic forecasts, Brexit is likely to dominate. Committee Chair Nicky Morgan, one of the few to publicly back May's proposal, requested the analysis.
Carney has already expressed concerns over a chaotic exit, warning that such an outcome could trigger a supply side shock that pushes up inflation and warrants tighter monetary policy. He's also briefed Cabinet on possible worst-case economic scenarios from banks' stress tests, which included house prices falling by a third.
Many hard-line Brexiteers -- including those such as Jacob Rees-Mogg who are calling for a new prime minister -- have dismissed the bank's previous remarks on Brexit as part of so-called Project Fear.
Because of the Brexit analysis, the BOE has moved forward the publication of its Financial Stability Report by one week to Nov. 28. The work on Brexit will draw on material from both the FSR and market-sensitive stress test results.