Carney, Lagarde Tell Finance to Get Serious About Climate Change
(Bloomberg) -- Mark Carney and Christine Lagarde are once again pushing investors to take the climate crisis seriously and ensure they're considering the risks from emissions and higher temperatures.
At an event in London, two of the world's most prominent economic policy makers said a shift in thinking is crucial to helping reduce emissions of greenhouse gases. Lagarde, who heads the European Central Bank, said the financial industry can be a "powerful force acting in our collective best interest," while Carney, the outgoing governor of the Bank of England, warned that it can't sit back and let others do the work.
"2020 must be a year of climate action where everybody's in, and that includes the world's leading financial center," Carney said at the launch of the U.K.'s agenda for the United Nations climate summit later this year.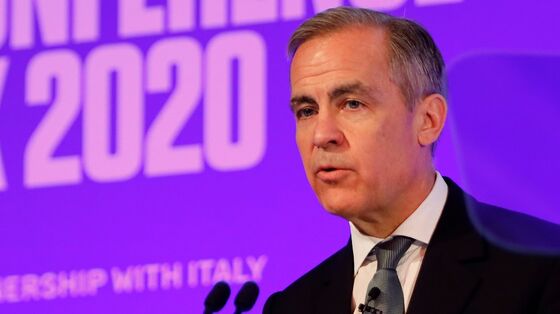 Carney, who's also advising U.K. Prime Minister Boris Johnson on environmental topics for the COP26 conference, has been pushing the issue of finance and climate for years. It's been steadily rising in prominence and was a big part of the World Economic Forum in Davos in January.
COP26, the November summit in Scotland, is billed as a possible milestone event. The signatories of the 2015 Paris climate accord will reach a five-year deadline to review their promises and they could set more ambitious goals. The European Union has pledged to become the world's first carbon neutral continent by 2050.
Mobilizing financial markets to support the transition was a key goal of the Paris accord and has been the catalyst for many of the world's largest asset owners and money managers to pledge resources behind the push.
Larry Fink said last month he'd put climate concerns to the center of BlackRock Inc.'s investment strategy.
"This is a pivotal year for the planet as we raise our ambition on emissions reductions and build an economy resilient to climate change," said COP26 President Alok Sharma. "We are determined to work together to deliver a prosperous, zero carbon future for all."