Carney Says Guidance Vital as Brexit Enters `Crucial' Phase
(Bloomberg) -- Bank of England Governor Mark Carney said Brexit is entering a crucial phase and this means his oft-criticized guidance on monetary policy is more important than ever.
After a barrage of questions on the effectiveness of the central bank's communications over the last few weeks, the governor used a speech in London to review the history of his actions at the BOE and explain why his methods work. The pushback came just hours after his deputy Dave Ramsden told Bloomberg the bank doesn't have a communication problem, though forecasting has become more difficult since Brexit.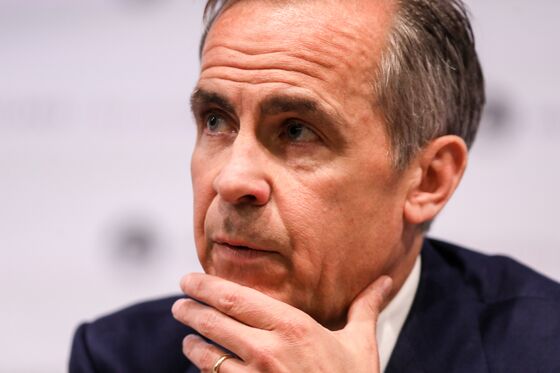 "Brexit is a regime shift that has markedly increased the range of possible outcomes for the U.K. economy and therefore the potential paths of monetary policy," Carney said. "The dependence of policy on which Brexit path is taken is one reason why guidance remains valuable during this crucial phase."
Since the U.K.'s 2016 vote to leave the EU, the central bank has focused on the supply side of the economy, which has come under strain, reducing its potential rate of growth. With the BOE forecasting expansion slightly above that lower speed limit, it expects to keep raising interest rates gently to control unwanted inflationary pressures.
The vote's impact has led to a "breakdown" in the predictability of monetary policy, according to Carney. "In such circumstances, forward guidance can help anchor expectations."
The speech may not put the issue of guidance and communications to rest just yet. It could even resurface on Friday, when he'll speak at a Riksbank conference on the topic of "The Future of Central Banking" with Federal Reserve Chairman Jerome Powell.
Carney, who is due to leave the U.K. central bank in June 2019, laid out several paths that policy could take depending on the outcome of Brexit.
If there was a disorderly transition, he said, the MPC would probably have to manage another "trade-off" between growth and inflation, as it did after then referendum. Back then, it cut interest rates and restarted QE.
"My message this evening is straightforward. From a monetary policy perspective, the Bank of England is ready for Brexit whatever form it takes."

--Mark Carney, 'Guidance, Contingencies and Brexit'
Even in the near term, there are questions. A report Friday showed economic growth in the first quarter was 0.1 percent, unrevised from an initial estimate, while household spending rose the least in more than three years. Separate sentiment figures Friday also showed households are increasingly concerned about job security.
While Carney highlighted increased uncertainty about consumer spending in his speech Thursday, the central bank expects that output will recover this quarter. Still he also noted there's a chance the weakness could reflect a "worsening of the underlying economic climate."
Growth could also surprise on the upside, requiring policy to be tightened faster. That could happen if business investment growth recovers more strongly.
"As the committee has made clear before, its guidance about the likely gentle path of rate increases depends on the economy evolving broadly as expected -- in particular, whether growth in demand exceeds that of supply," Carney said.
Carney also said guidance is just one part of the BOE's efforts to increase transparency, and there's more to come. The Monetary Policy Committee is reviewing the medium-term equilibrium rate, or the interest rate at which policy neither bolsters nor constricts growth. That level may rise as the global recovery proceeds. The bank will publish research in its next Inflation Report in August.